Xena: Warrior Monarch Butterfly Remembered
Feb 04, 2021
The pandemic changed all our plans in an instant. We were supposed to go on a sabbatical starting in June for my husband's work: a month in Tel Aviv while he worked with a colleague at Tel Aviv University, 2 months in Chicago, while he collaborated with a colleague at the University of Chicago, and a month in New York where he had a research position at the Hayden Planetarium in the Natural History Museum.... and I was going to visit museums and galleries, meet lots of new people, and soak in the vibrant culture of new places.
Instead, he did his collaborations via Zoom and I soaked in the vibrancy of our own back yard. Literally. In early spring, I had no idea what was back there apart from some wildflowers that we had planted on the hill to keep erosion at bay and the citrus trees that produced fruit either too sour or crammed with all the seeds from their seedless cousins didn't have...But this year, I got down on my hands and knees and noticed an amazing world of beautiful flowers, incredible bees, metallic blue wasps, bright green spiders...and then, caterpillars. Striped caterpillars... Monarch caterpillars.
I began to notice caterpillar fatalities and the lack of chrysalises in our yard and I did some online research which led me to Mr. Lund Science and his YouTube videos on raising Monarch butterflies. So we gathered up clean pickle jars and brought a few caterpillars indoors. I washed the milkweed leaves to get rid of parasites and the caterpillars ate...and ate...and ate...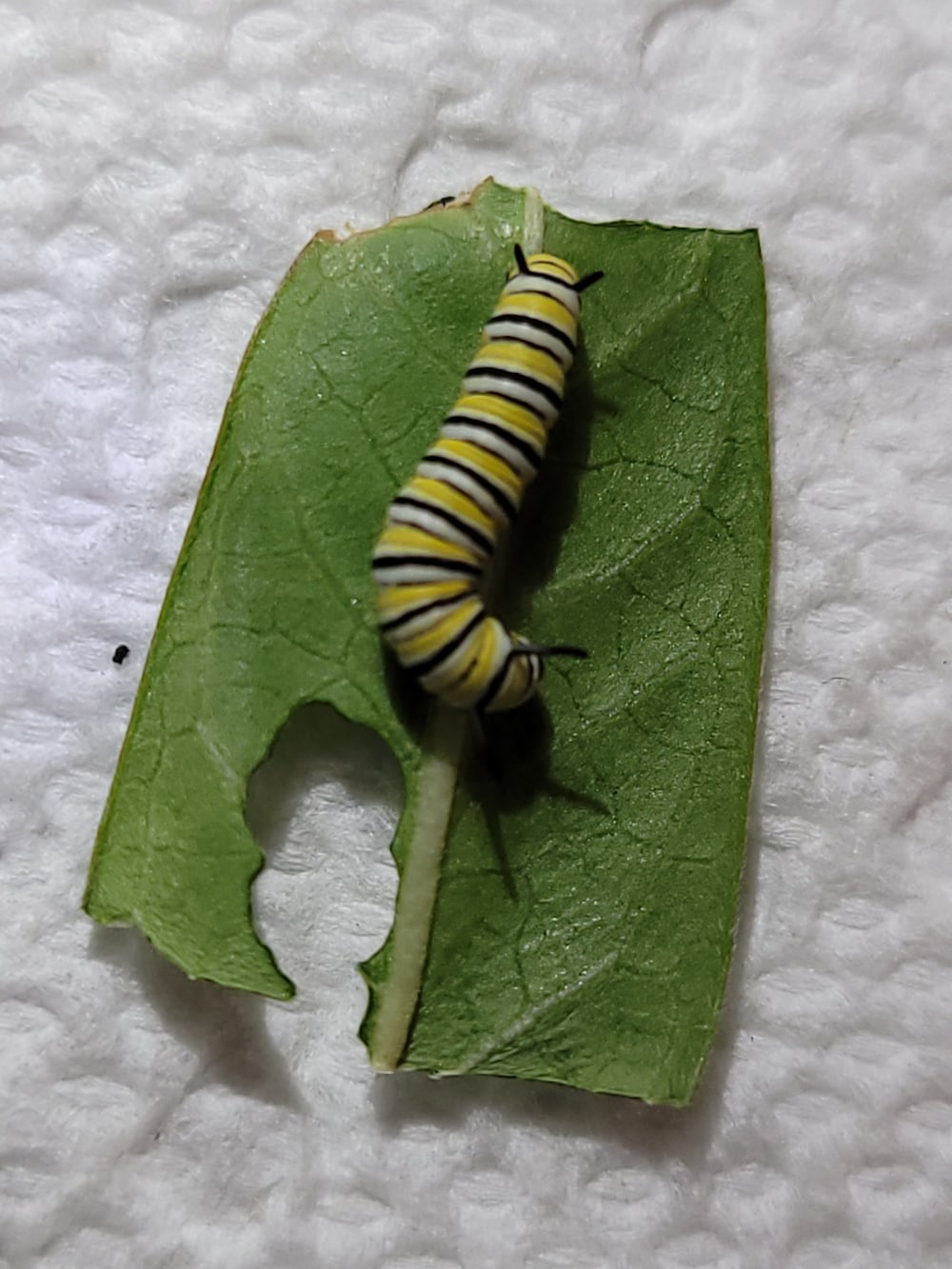 We lost some to tachinid flies (which lay their eggs in young caterpillars and then kill them when they reach the critical stage of turning into a chrysalis. It was incredibly gruesome to watch white grubs catapult out of a dead hanging caterpillar....like a horrible sci-fi scene...)
But some made it to chrysalishood...and then emerged at butterflies!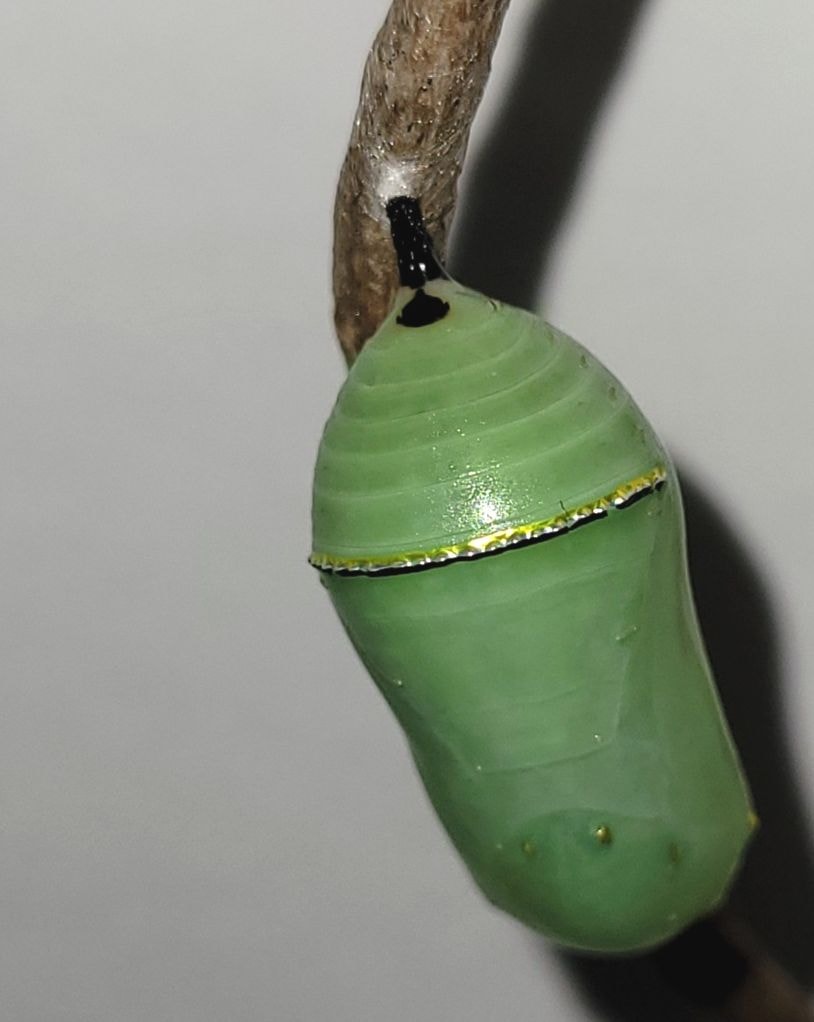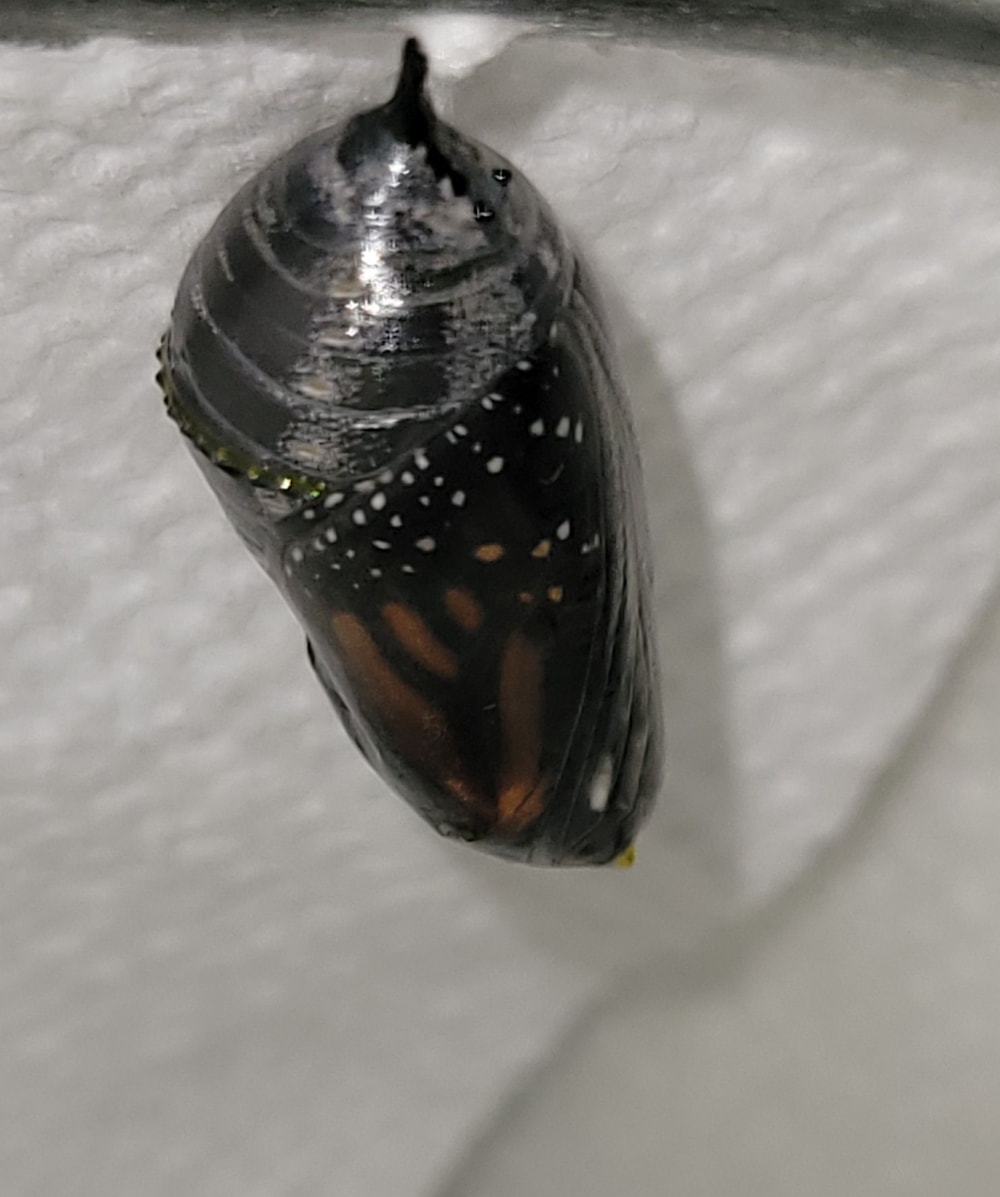 One butterfly that made it was one I didn't have much hope for because as a caterpillar it was incredibly anxious and climbed up and down the stick as if it were pacing before it finally spun its chrysalis....but on October 18th, the jade green chrysalis turned transparent, and a butterfly began to eclose... however, this one seemed to be having difficulties and what usually takes 5 seconds was taking this butterfly 15 minutes to do...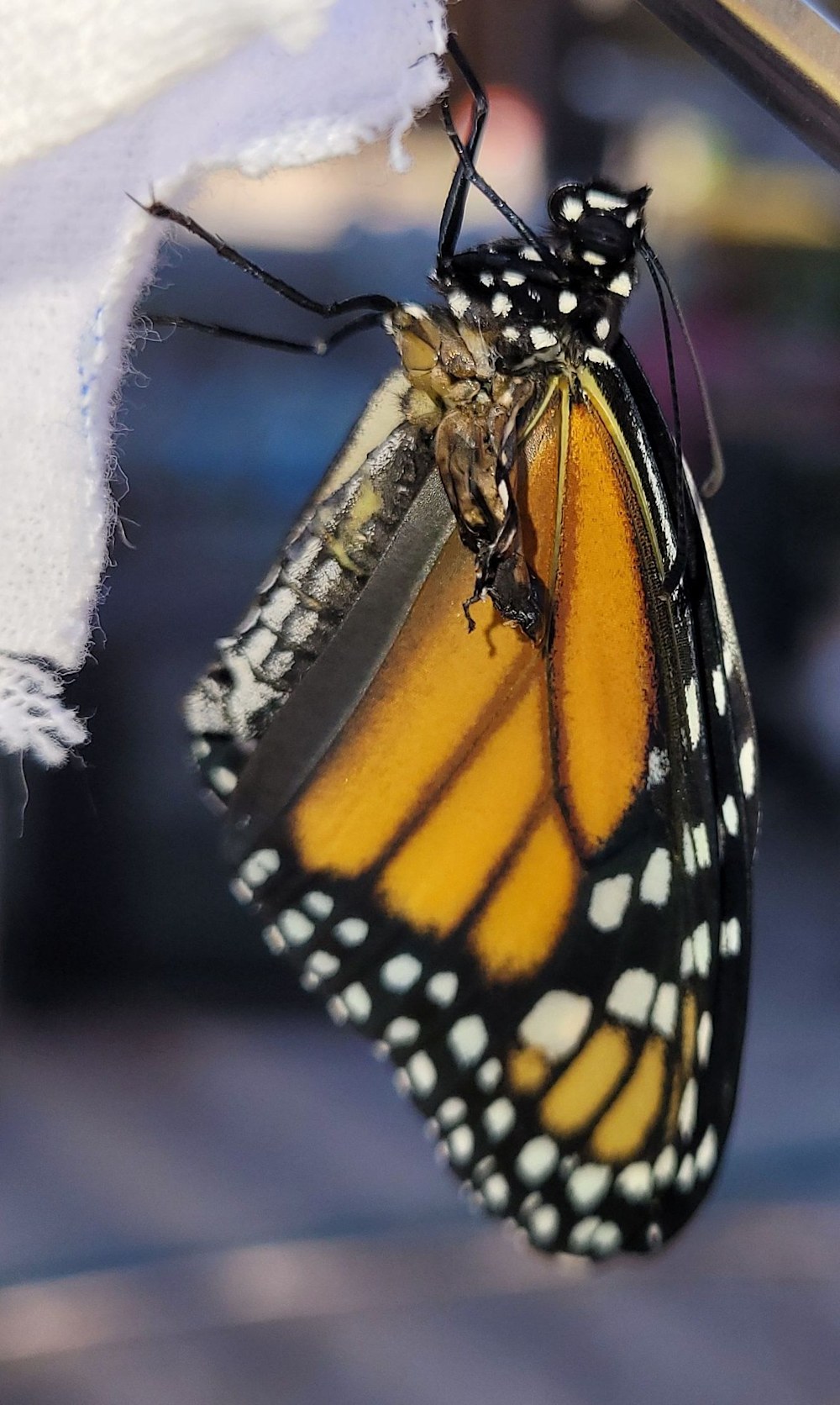 And when she was finally free, it was clear that something was wrong. She was missing a wing and had some sort of larval-looking thing in the "shoulder" where the wing should have been. My husband removed it with a toothpick...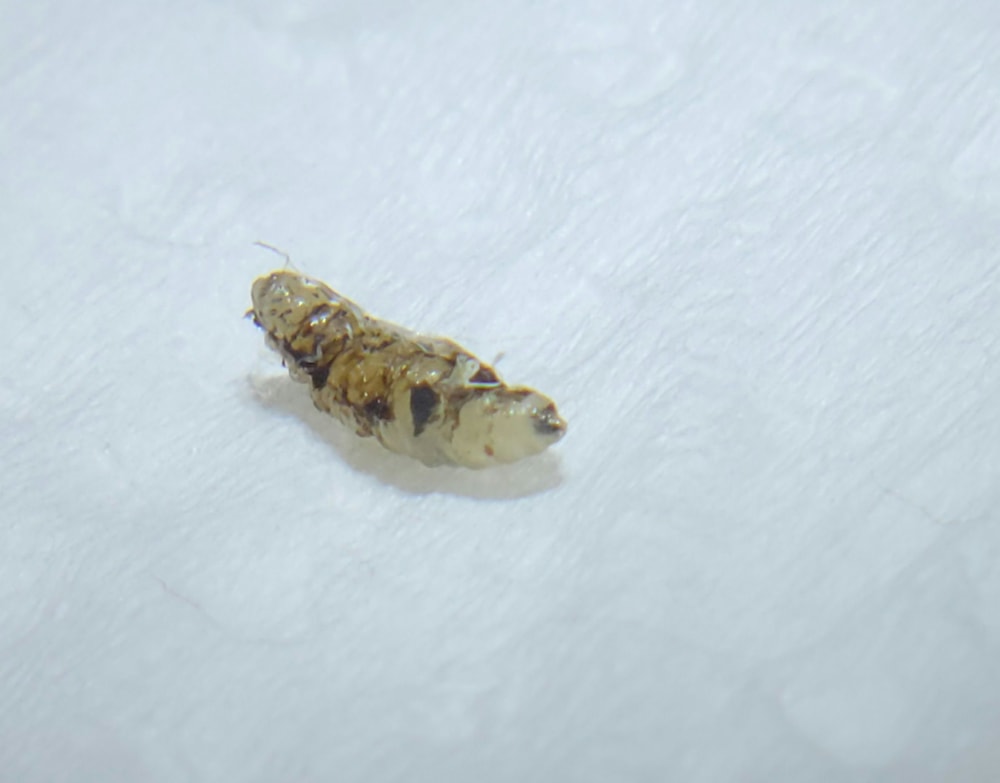 We had no idea what it was....but now we had a butterfly with a missing wing and a deformed leg, but who wanted to fly... I put her on my finger and carried her over to the milkweed flowers and she hopped off and began to feed...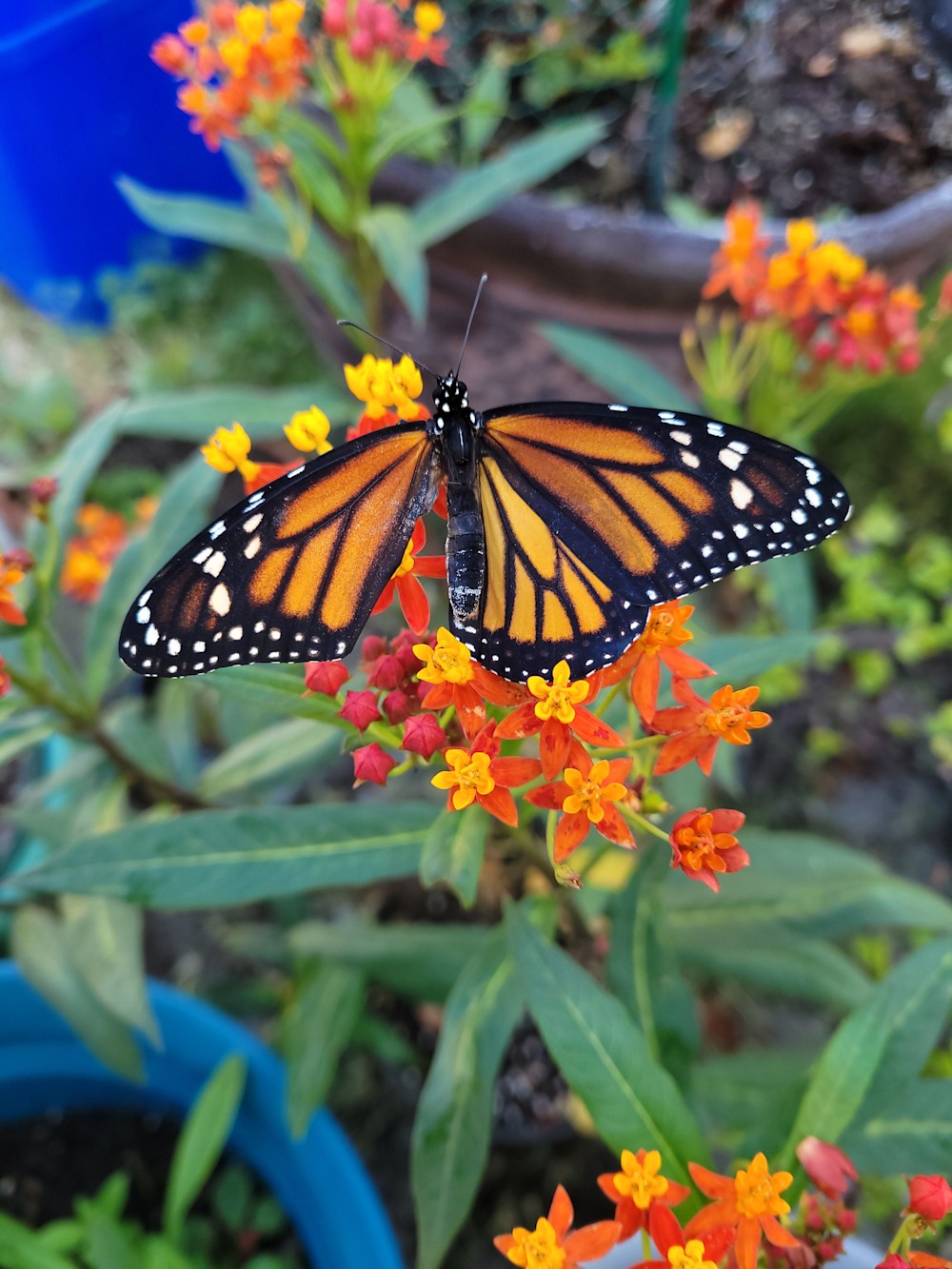 Since we thought that she might have had a tachinid fly larvae (since they look very similar to the thing that was removed from her), I got in touch with a local expert who agreed to study her. He fairly quickly determined that it was unlikely to have been a larvae, but was perhaps some other kind of problem, but there was no firm answer. She was otherwise healthy, and very feisty. He decided to keep her for as long as she endured... and they created a relationship -- she recognized him when he entered the room and shivered her wings to signal that she wanted food. He gave her honey-water, and she learned to feed herself. Most of the time she hung out at the top of her enclosure -- almost as if hibernating. He speculated that she was probably supposed to be a hibernator; they tend to be in reproductive diapause and can live up to 4 months.
I was inspired by Xena and created a collage in honor of her story.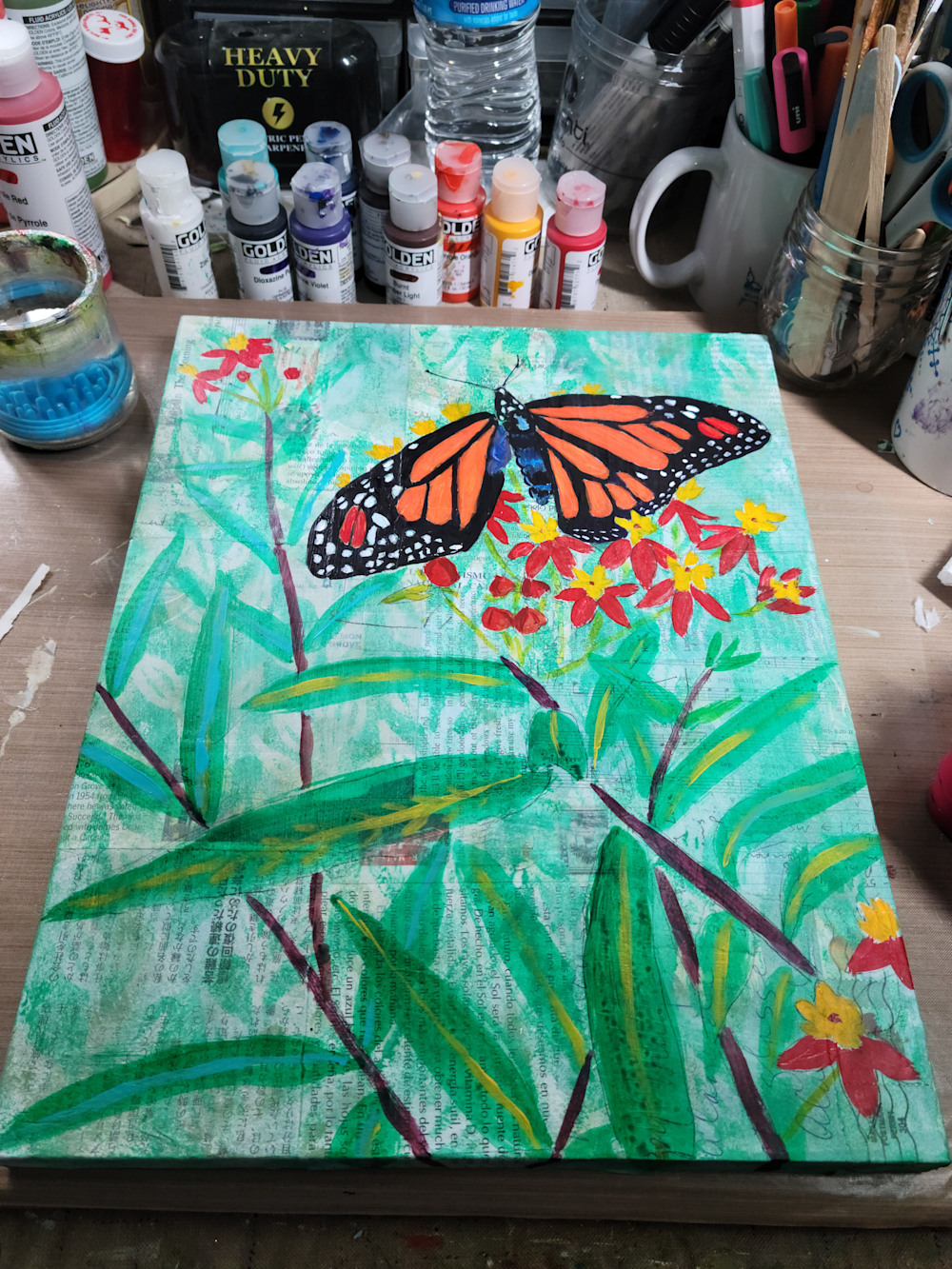 First with an underpainting on top of a layer of ephemera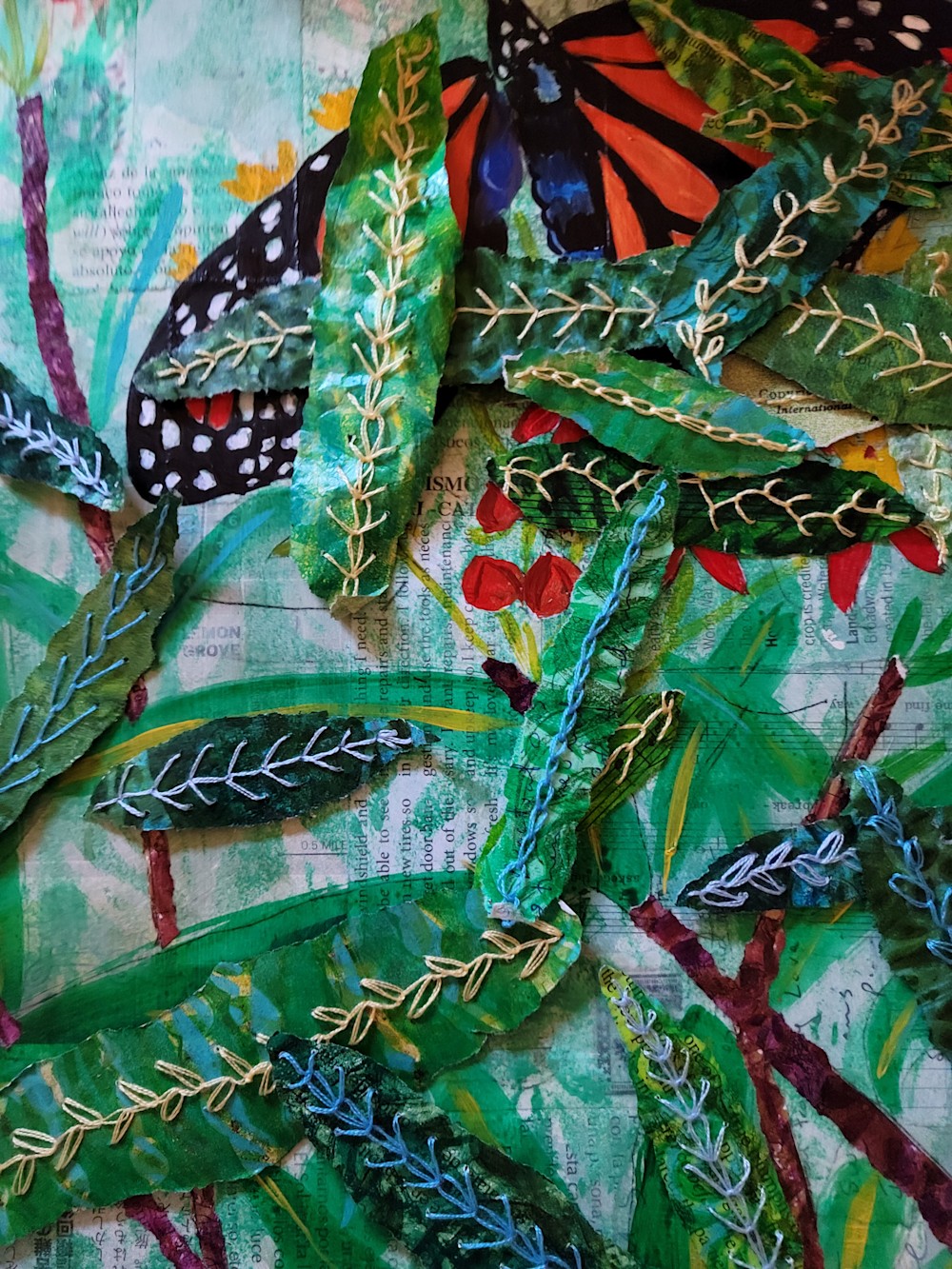 Then I collaged the stems and decided to embellish the leaves with embroidery before gluing them down.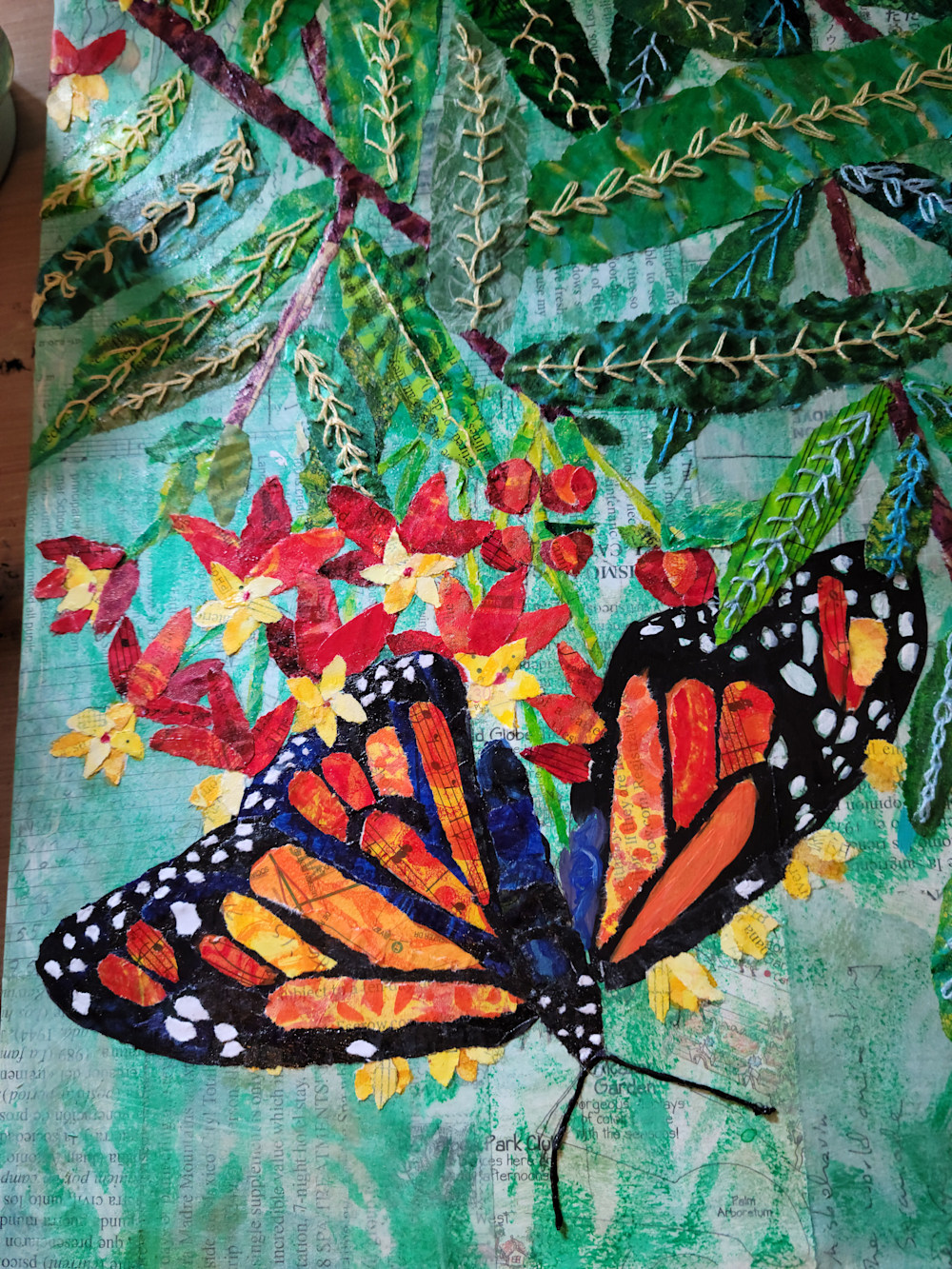 Then I collaged Xena herself...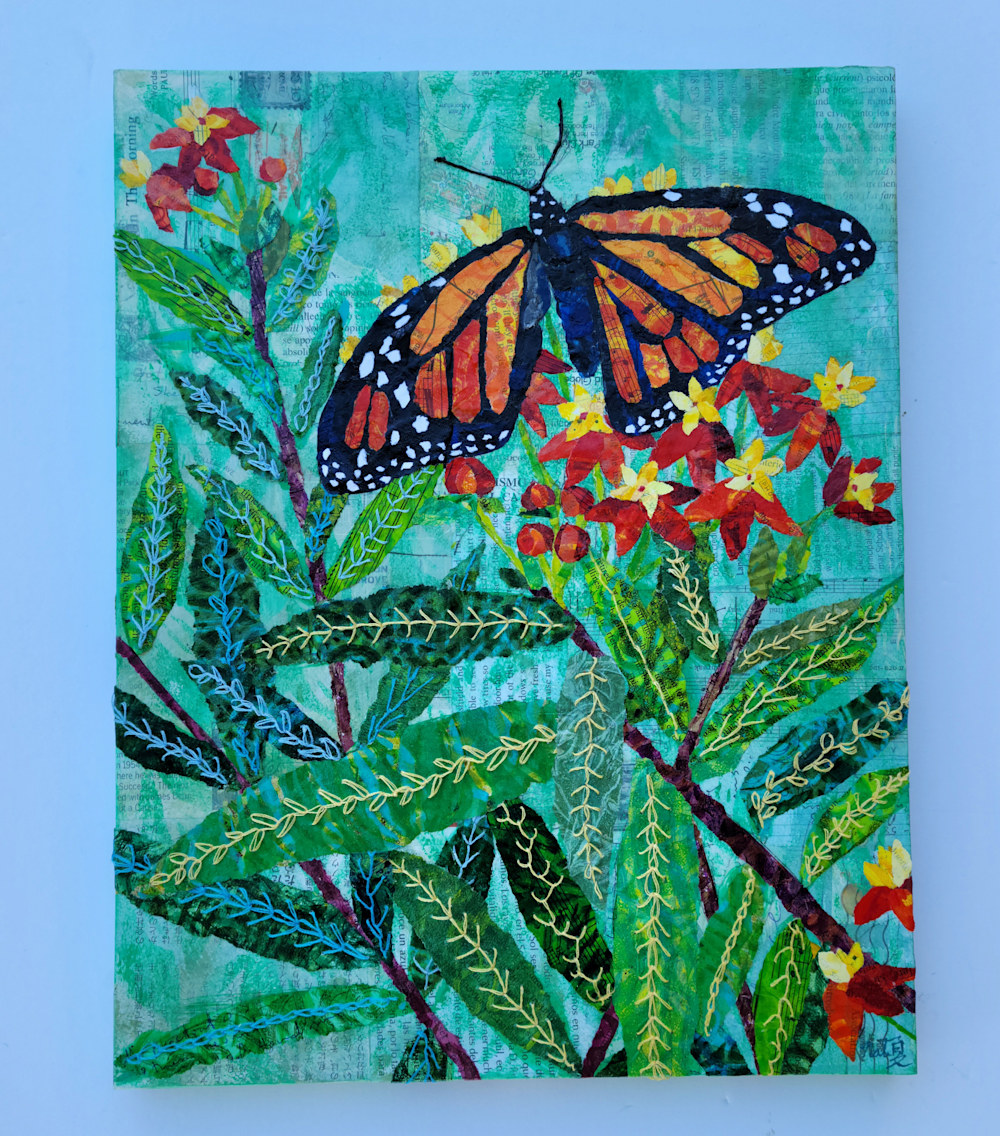 And finally, she was finished, my tribute to a butterfly that survived the odds with a strong will to live and joie de vivre.
Xena lived past the average lifespan of most butterflies which is about 3-5 weeks and was still asking for honey-water on New Year's Day 2021. But, a butterfly -- even a special one -- can't live forever. And Xena slipped away early in the morning of February 3, 2021. Now, she is free to fly the way she wasn't able to on earth.
The original 11 x 14 painting is available for sale; please contact me if you are interested.
Prints of Xena: Warrior Monarch Butterfly can be found in the shop.