Wild Neighbors, Mid-series
In late December 2022, I decided to create a series of paintings titled "Wild Neighbors" that capture the unique landscapes and creatures of San Diego County's chaparral and desert regions. While the beach often receives the most artistic attention, I find the inland environment equally captivating and underrepresented. I wasn't entirely sure what animals would get my focus, but I had a list of at least a dozen key creatures that live in San Diego's "backyard"
The first painting was the Brush Rabbit. They are found all over the scrub and canyon ecosystems from the Coast right up into the mountains. In the desserts, more hardy hares such as the Black-Tailed Jack Rabbit prevail.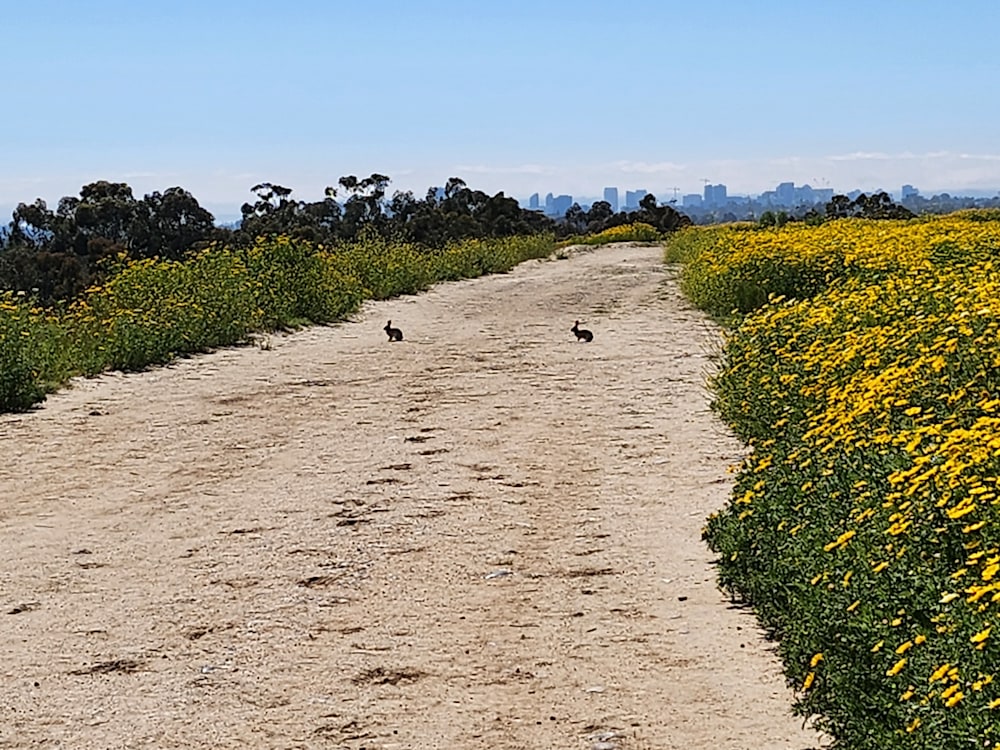 These little brush bunnies were seen in Chollas Lake Park during the superbloom of April 2023.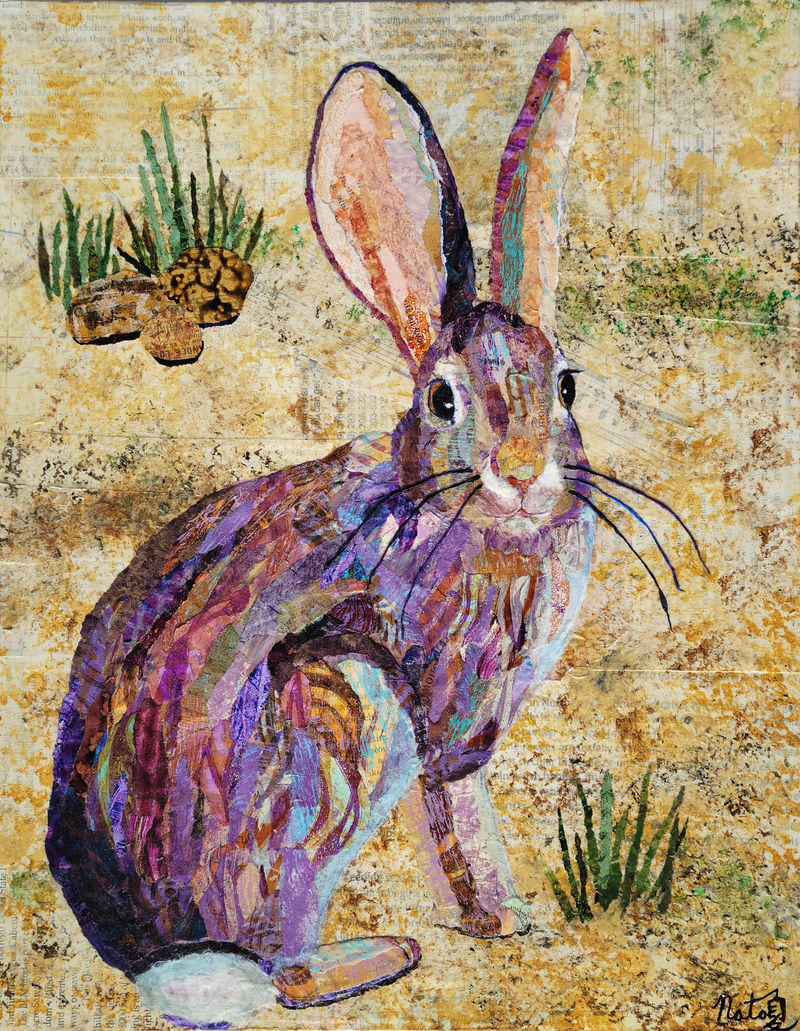 This is my painting: Wild Neighbors: Brush Rabbit
The next wild neighbor in the series is the Mountain Lion. I did not realize that mountain lions were an integral part of our ecosystem until a superstar from Los Angeles became famous. P-22, the mountain lion who lived in Griffith Park, captivated my imagination and helped galvanize my feelings about co-existing with native wildlife.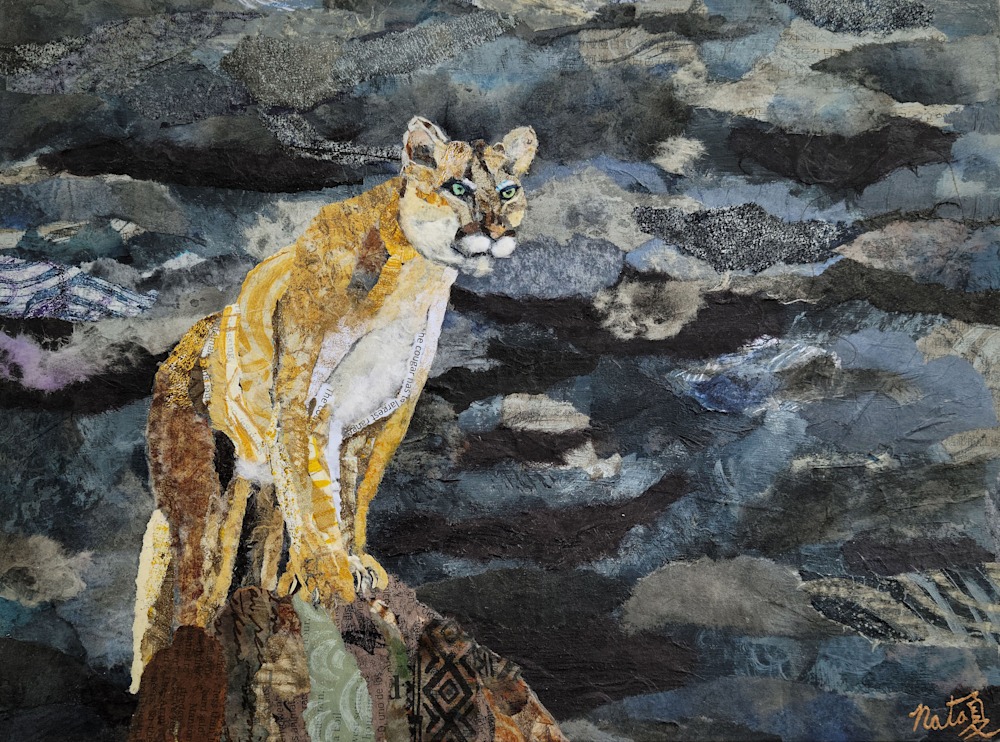 Then we went to Borrego Springs to focus on an animal that is only found in the desert portions of our County: Bighorn sheep. I had first seen them while driving to Palm Desert -- there is a stretch of road with rocky cliffs on both sides -- and in January 2023, I saw a movement from the corner of my eye, and then a bighorn sheep materialized... and then suddenly the whole cliff came alive! That experience inspired the next painting in the Wild Neighbors series: "Where Are Ewe?"
After that visit to the far east of the County, I returned home to focus on a creature that actually IS in MY backyard: the coyote. They are incredibly agile, able to leap over 6-ft fences without a break in stride. They run along the collective fence line behind my house (and all the neighbors' on the block) in the evening, yipping and sailing over fences.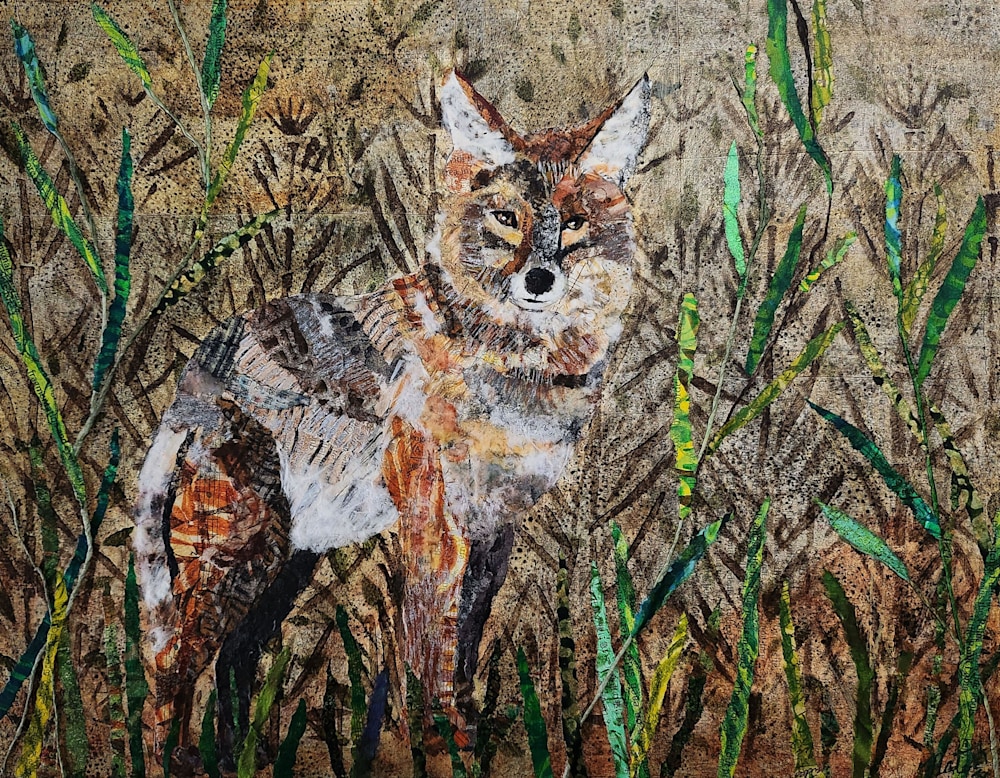 After honoring a canine top predator, it was time to admire the local bobcat. Although I have never seen bobcats in the wild, several friends have seen them roaming the canyons in Mission Valley and Rancho Penasquitos.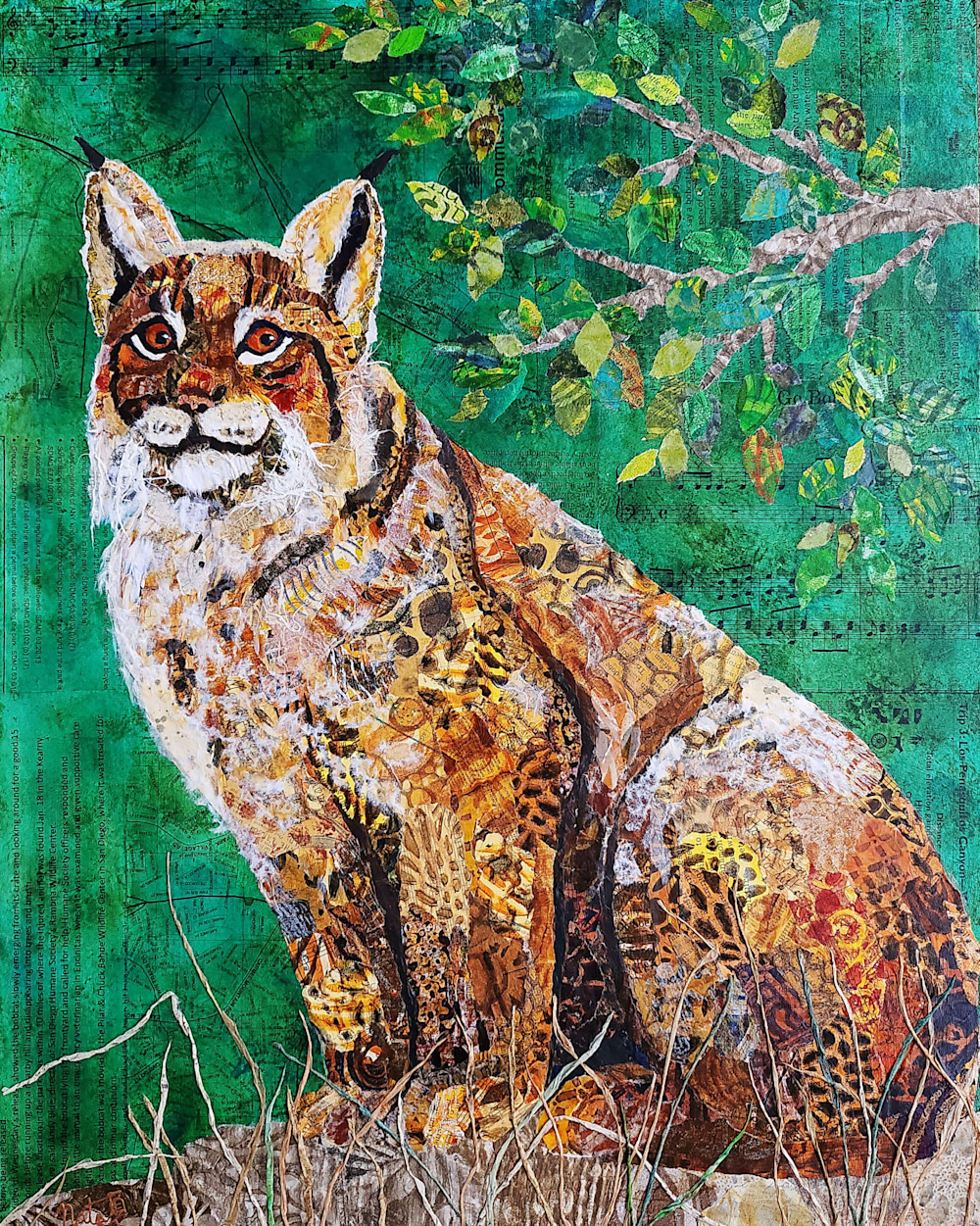 After the bobcat, I took a poll of my email subscribers and got half of the votes for an opossum, and half for a rattlesnake. So I did both.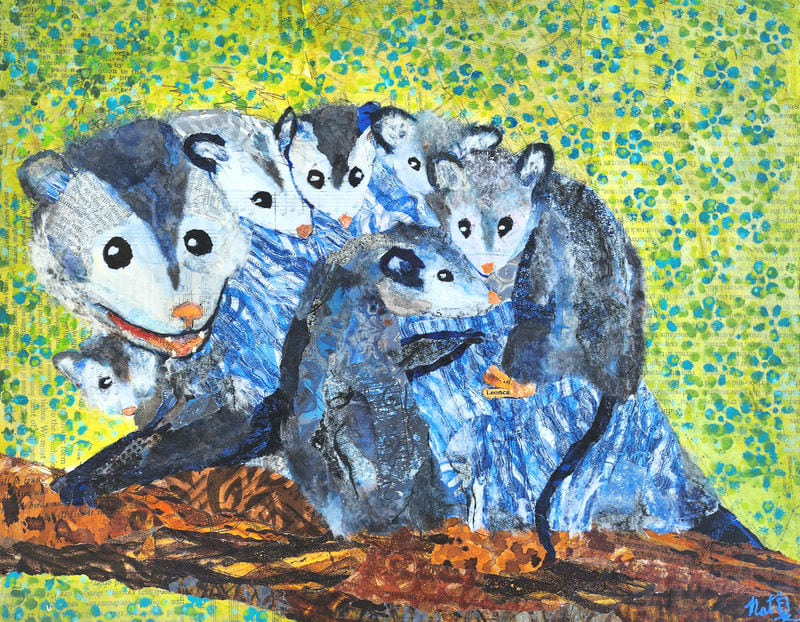 We used to have an opossum that lived under our bougainvillea bush. We never actually saw it, but we saw its tracks in the mud after rain and how it ate the grapefruit that fell from our tree. In December, a committee of 13 vultures visited our back fence, and when they had finished their meeting and flown away, we found the skeleton of an opossum at the top of our hill. It was probably the one from our yard; we haven't seen signs of it since.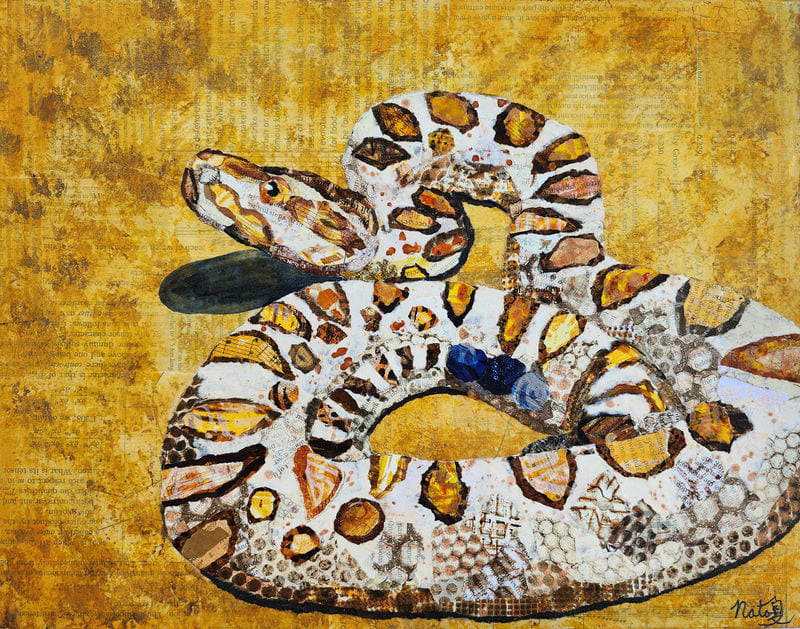 This Red Diamondback Rattlesnake is not the most common species in San Diego but the most pretty. I saw one once while taking a walk in Lake Murray Park. It was sunning itself on the path, and after a few seconds of staring, it decided to disappear into the bushes near the path. Lots of people are scared of snakes, but I welcome them in my yard: they eat gophers...and the enemy of my enemy is my friend.
So far, that is the whole series. I plan to include a mule deer, a skunk (common or spotted? That's undecided), a ringtail, and maybe a kangaroo rat or some other native rodent.
The paintings are part of a traveling exhibit that leaves the Poway Library on June 29th, goes to Studio 23 in Spanish Village from September 1-15, and to Pine Valley Library in Pine Valley on October 1. They are also in an online exhibit called A Beautiful Day in Our Neighborhood. Click on the link to get there. I'll add new paintings to each exhibit as they are finished. I hope you check them out.
Also, you can search Wild Neighbors in this website to order prints of any of the paintings.