The Red Dragonfly
We live in Southern California, just east of San Diego. It is a dry climate. The average optimistic annual rainfall is 10 inches, but this past year it fell short of 7.
We see a lot of insects in our backyard, but usually, they are hardy bees and butterflies that don't need access to large amounts of water. So we were surprised when this summer we noticed several red dragonflies hanging around our milkweed patch.
A quick consultation with iNaturalist identified them as "Flame Skimmers," dragonflies that are native to the Western US. Immature skimmers live in ponds or streams and live off of mosquitoes and other insect larvae. Adults feed on flying insects (including mosquitos – God Bless Them!). There are no ponds or streams near us; the nearest ones are in parks a few miles away.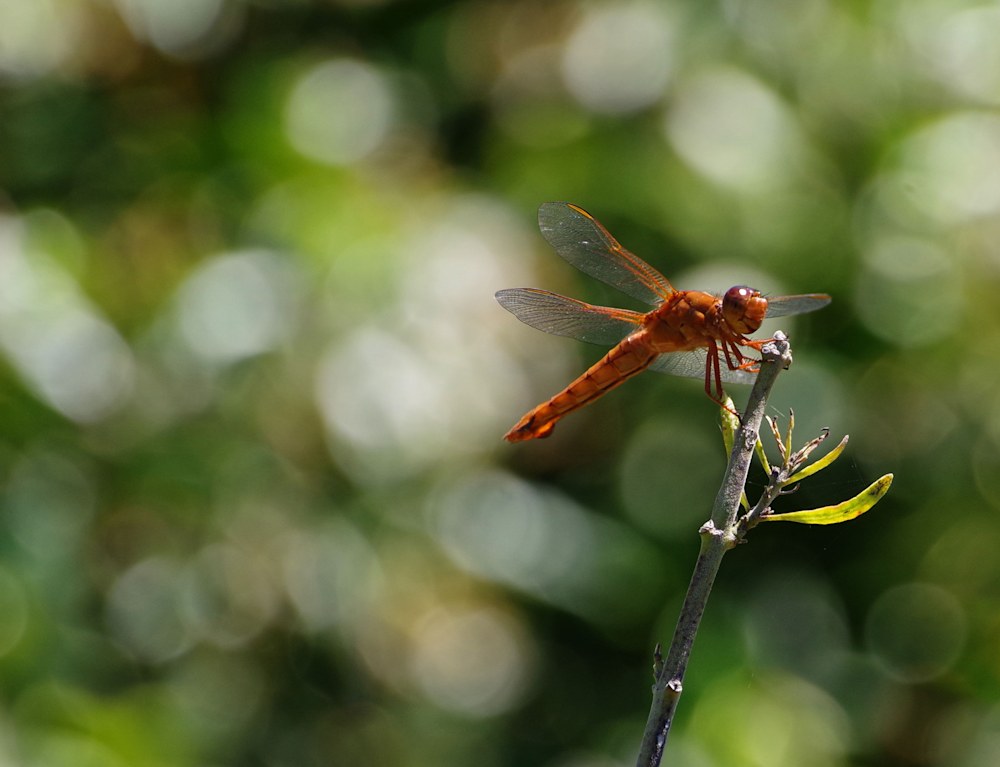 This is a photo taken by my husband, Bill Welsh, in June of a Flame Skimmer pausing for a rest on an Asclepia Gomphocarpus physocarpus, aka Hairy Balls; this one was just regaining its leaves after a dormant phase in the early spring.
Red Dragonflies are symbols of courage and happiness in several cultures, so I knew I had to paint this auspicious visitor.
I first made a concept sketch with watercolor paints to hone the composition.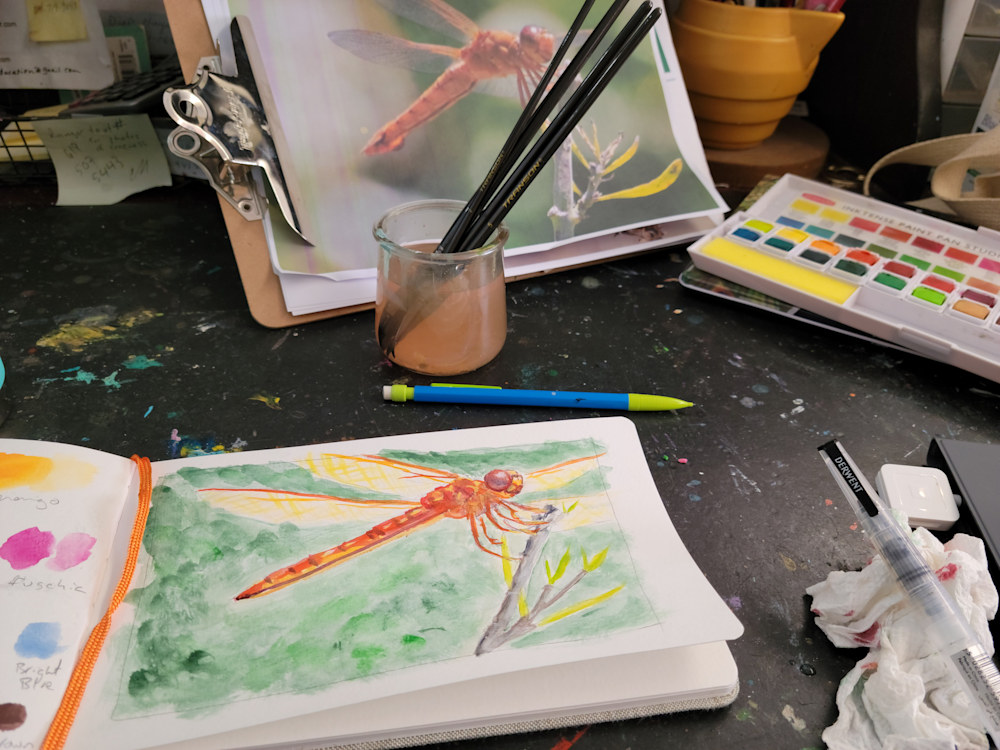 Then I found lots of "stuff" and glued it on an 11 x 14 wooden panel. There's sheet music, multi-language information from my healthcare provider, tourist information about Balboa Park, a recipe from an Amy Vanderbilt cookbook, a page from a book on tensor calculus that I scored for 5 cents at the Lemon Grove Friends of the Library shop and bits from a walking tour guide of San Diego. It's a really fun scavenger hunt to accumulate the right mix for each piece.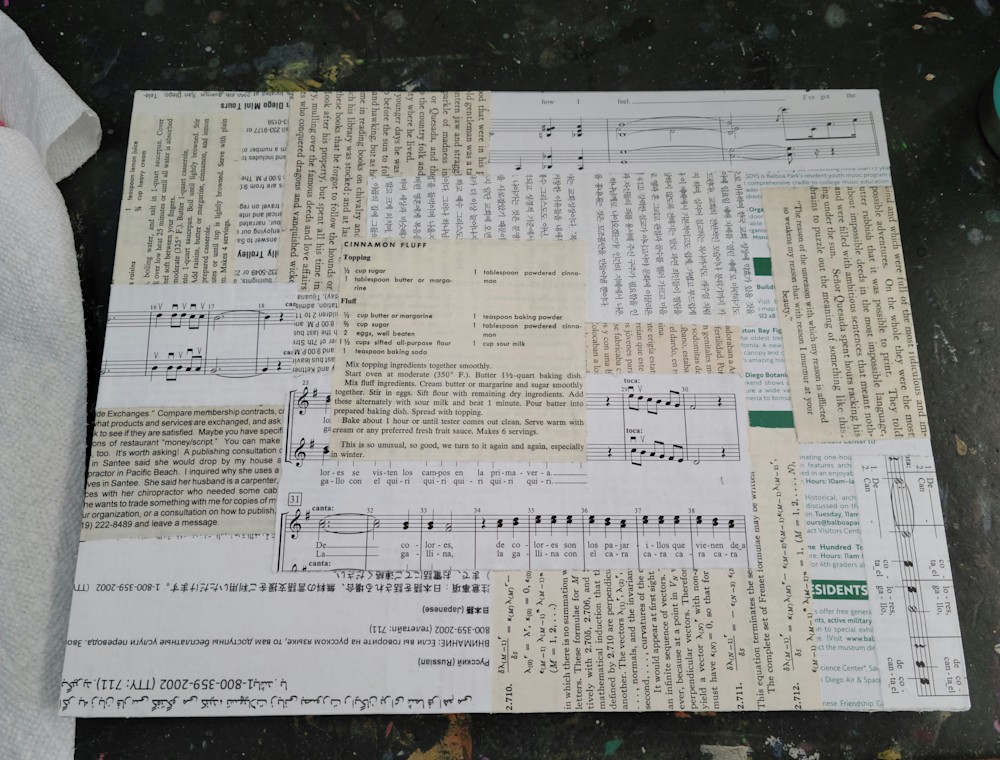 I layered paint and stencil images on the back, then added the sketch. Actually, I sketched the dragonfly in a notebook, scanned it and resized it a few times until I got the perfect size for this panel. That image would prove very useful later on!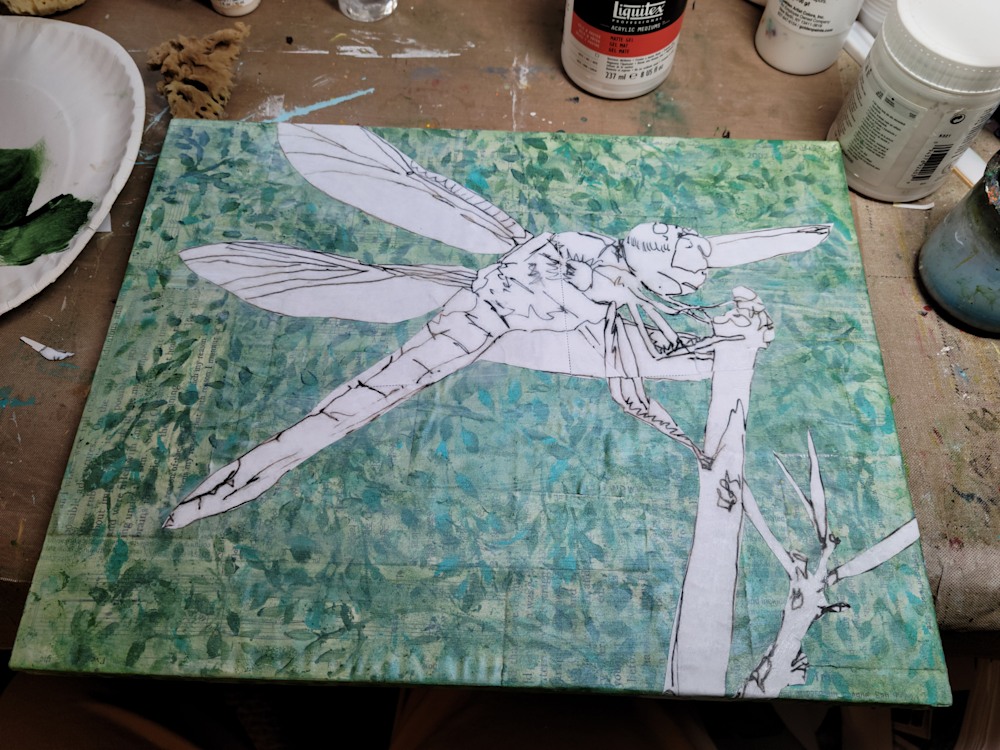 Then I added paint to the sketch.
And then we went to Korea.... and it took a bit longer to return than anticipated, so several weeks went by before I could work on it again.
I had dreams about how to make the wings when I was feverish and in quarantine...I wrote down those ideas, and when I returned home, I tried them out...
I went to the fabric store and bought shimmery organza fabric and put it over a wing which I had printed out since I had a copy already scanned and resized. I painted that and then added fine details with an extra fine sharpie pen. Then I embroidered some details.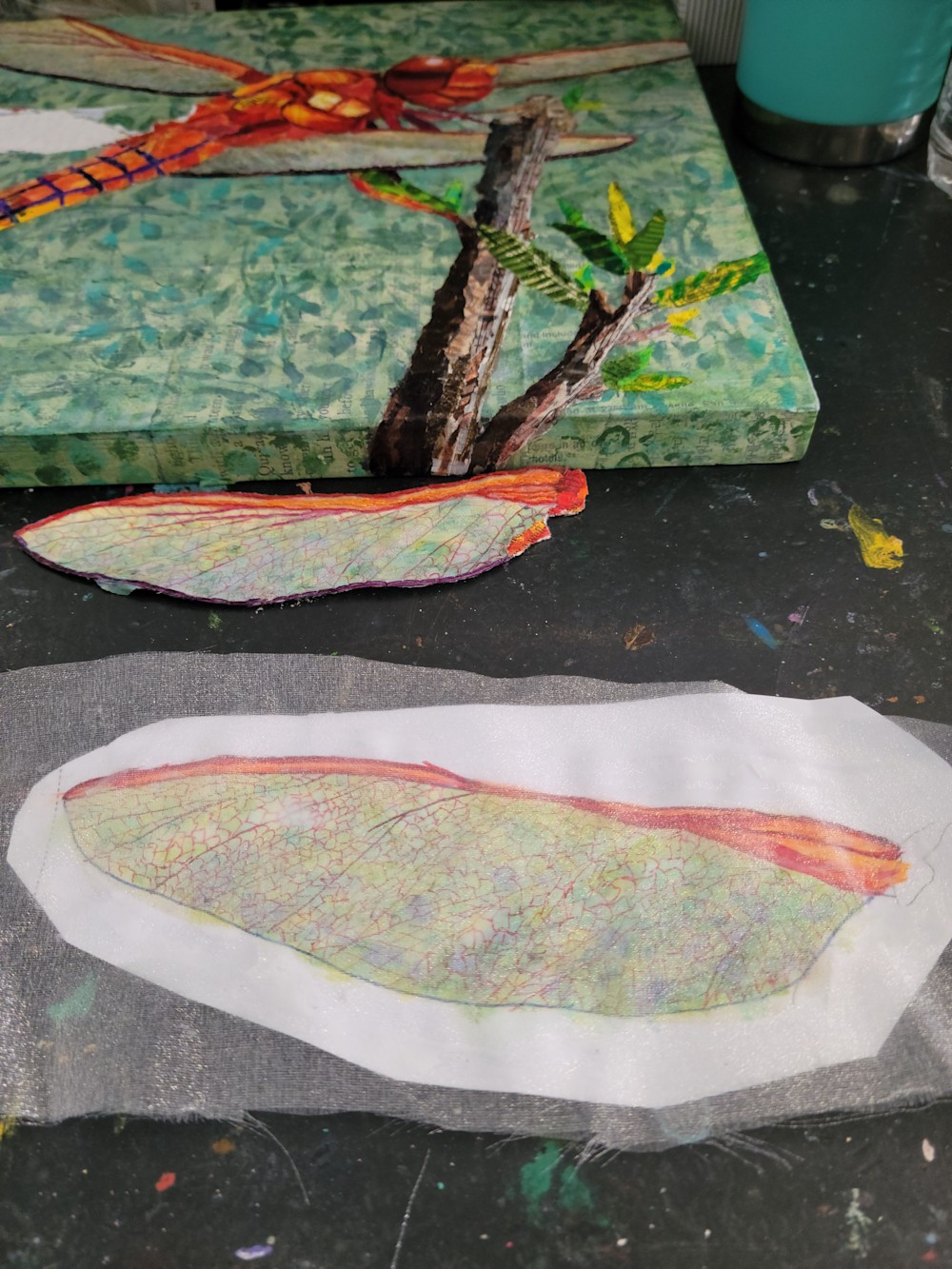 The back wings worked great, but the front wings seemed out of proportion, so I resized, re-printed, re-painted, re-glued the organza, and redid the embroidery...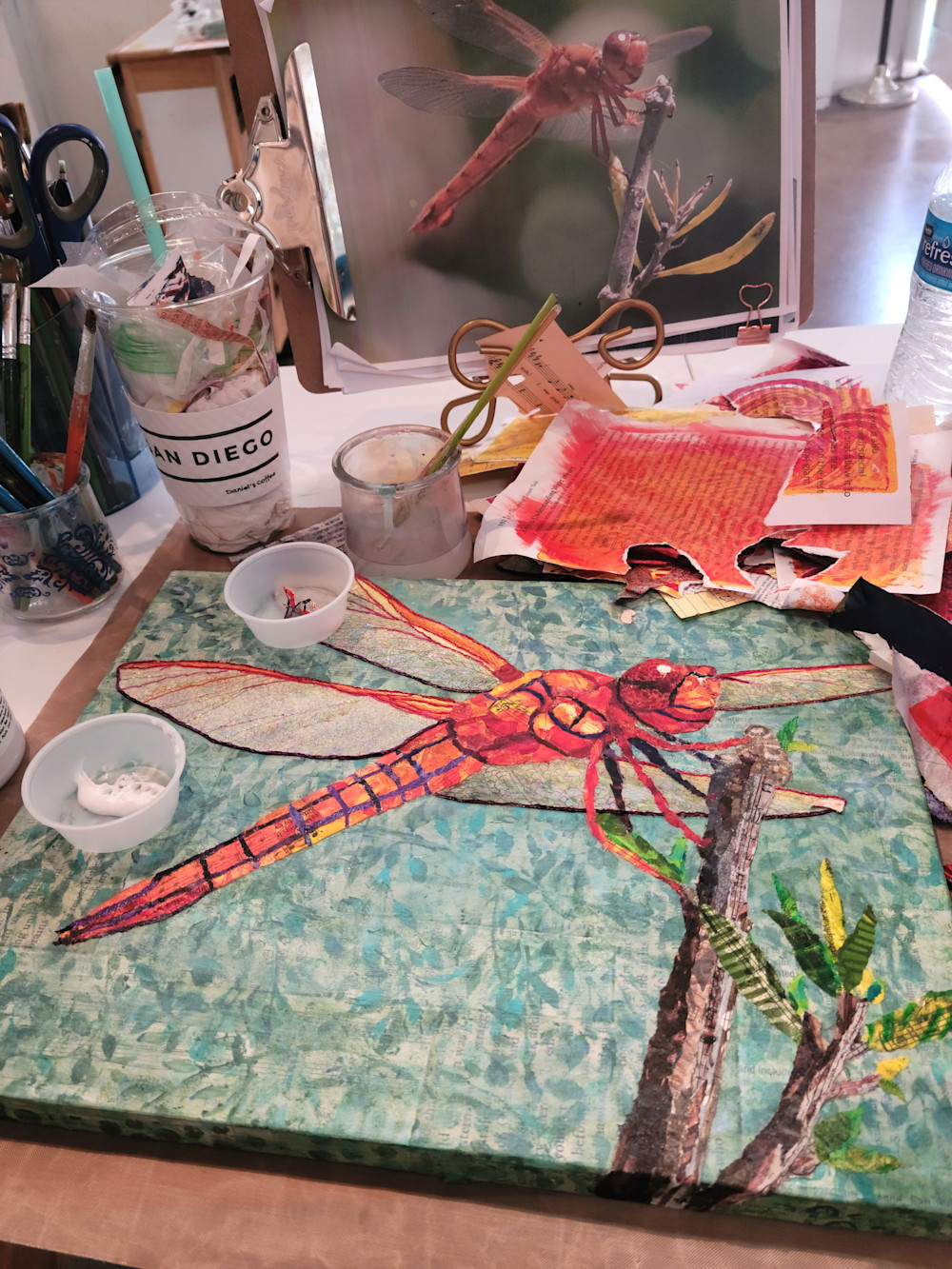 Whew!
I finished the collage of the body and then finished with a hanging wire on the back.
It was extra work but totally worth the effort since I love this piece! It is currently hanging in Studio 23, the Southwestern Artists Association studio in Spanish Village Art Center in Balboa Park, through Sunday, October 2nd, 2022.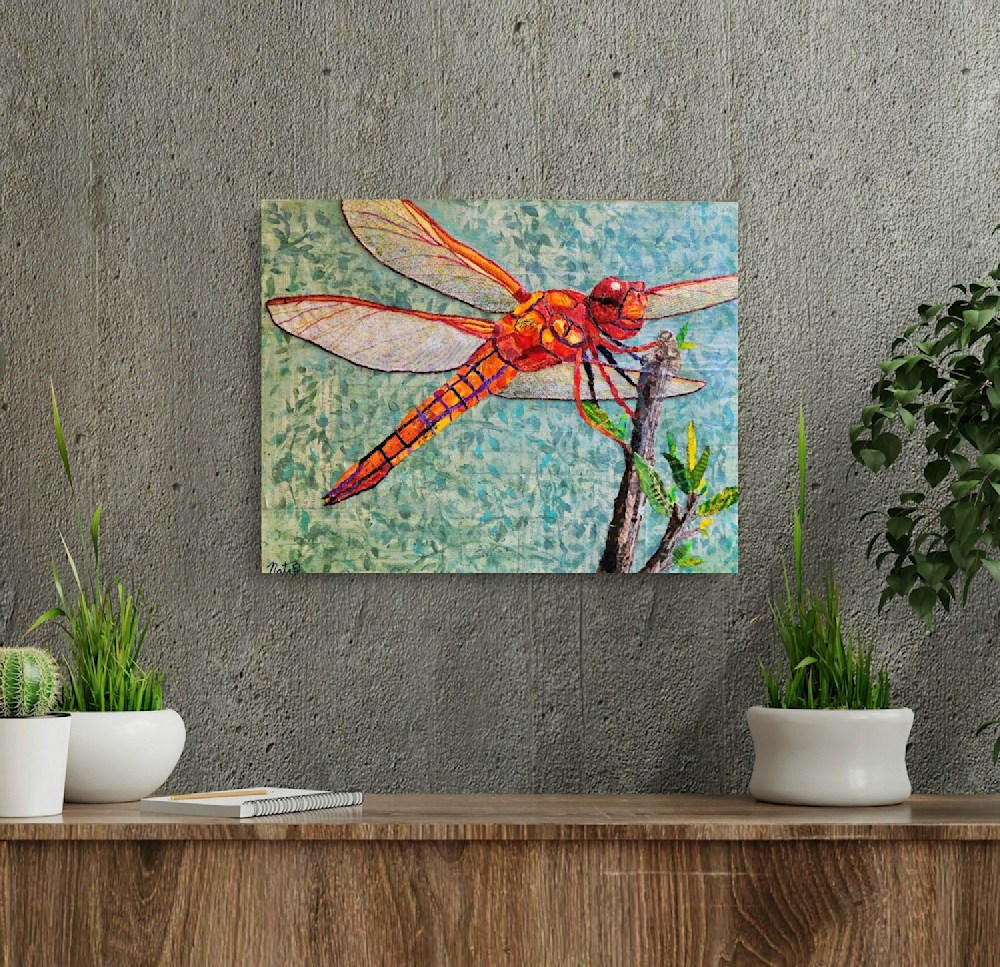 Prints are available in the Fine Art Store. As always, you can choose any size, any material, and the team will print it and send it straight to you!