Springtime in the Desert
Mar 26, 2021
One of the best things about living near San Diego is that in half an hour you can arrive at a beach, in an hour, you are up in the mountains and in 2 hours you are in totally different world, the desert. I love all the ecosystems of San Diego County, but am especially fond of the stark and fragile beauty of Anza-Borrego State Desert. And especially in the springtime.
When the winter is too dry or the rains come late in the season, or the months of January and February are too hot or too cold, the flowers that bloom in March stay quiet. But if you get just the right amount of rain in November and December and the early part of the year cooperates, you get an explosion of flowers in mid-March known as a Superbloom. The spring of 2019 was the culmination of the perfect combination of rain and sun, and flowers all over Southern California burst forth in a wonderful riot of color!
We took a day trip to the Anza-Borrego State Desert Park and soaked in the beauty of the place. This is one of the photos I took that day.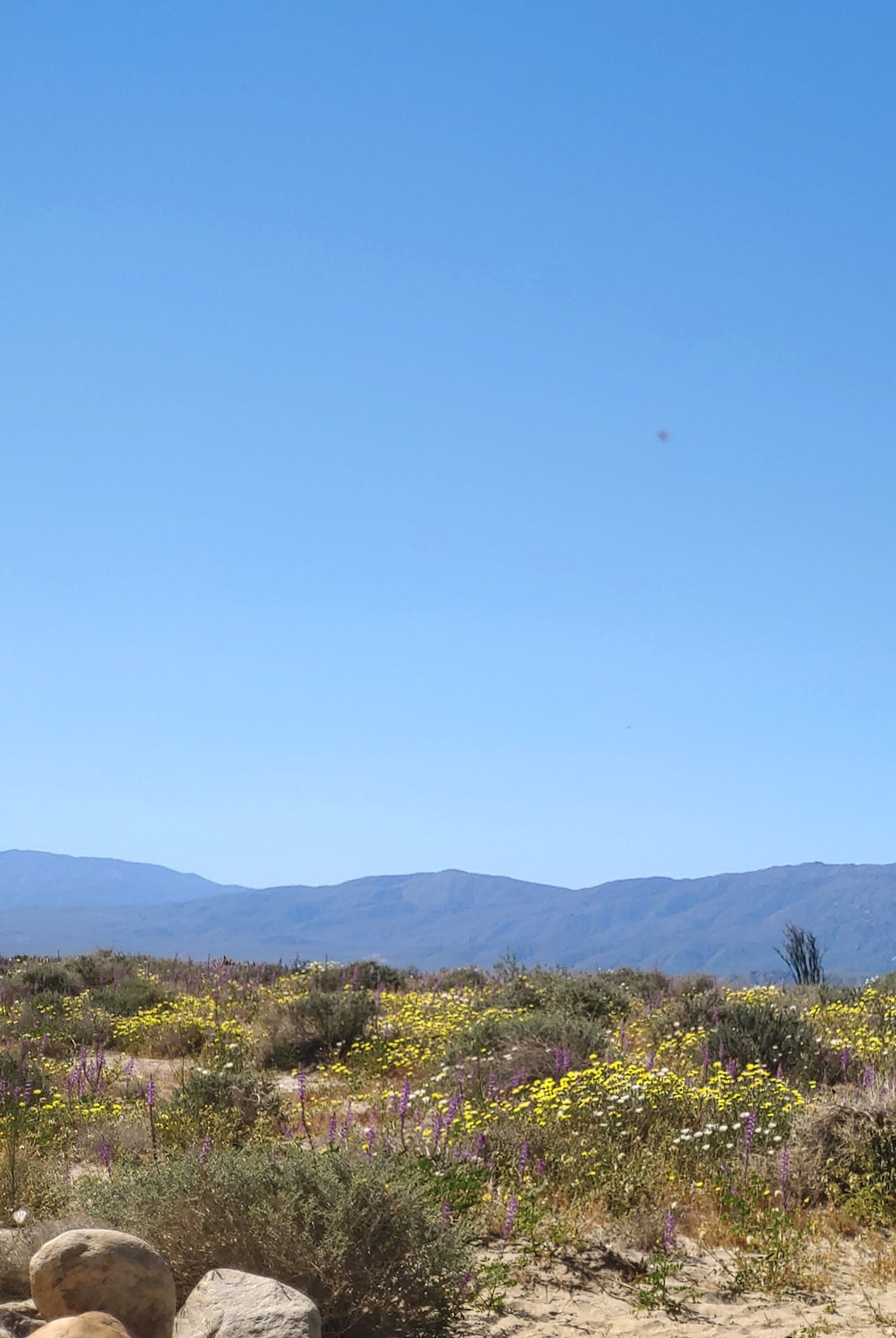 Yellow brittlebush, white desert stars, purple desert lupines and a glorious orange ocotillo under an amazing clear blue sky really impressed me.
Last year the park was closed due to the pandemic and I turned inward for inspiration, but this year -- although the park is still closed, I decided to honor its fleeting color and unusual beauty.
The original photo has a huge glorious sky, but I was worried when I started my underpainting that it might be too much -- especially since I wasn't planning on collaging the sky.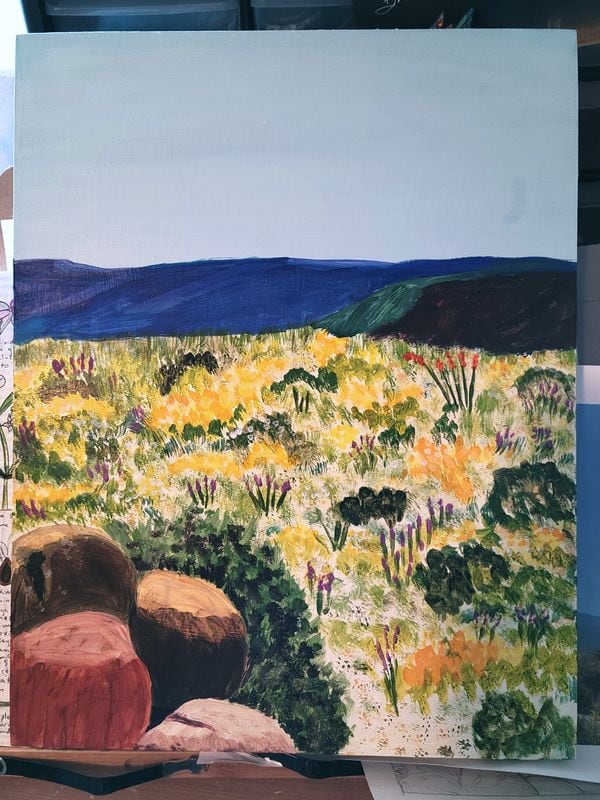 But then I decided that I really loved the big sky, so I gradually brought it back. And I also decided to collage the sky instead of leaving it just painted...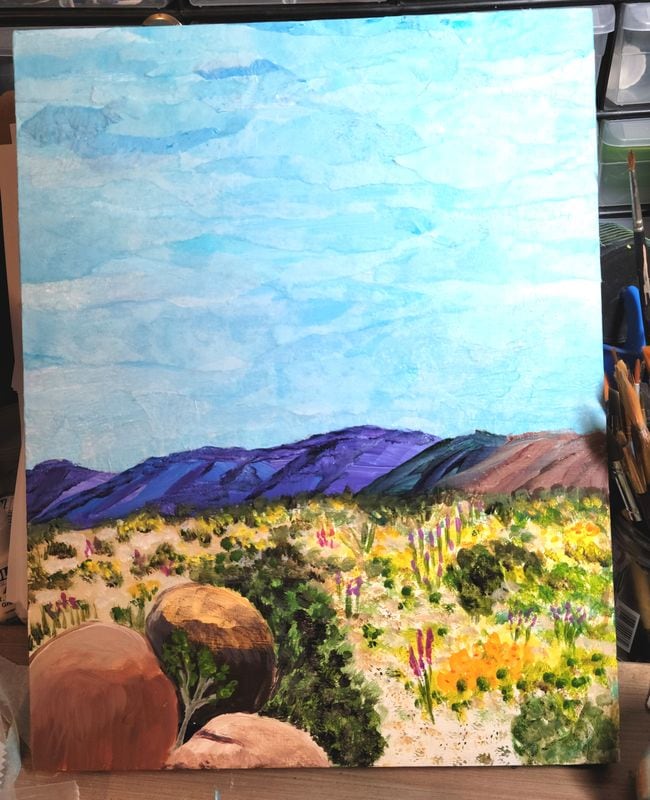 And then I had a day of studio-sitting at the Southwestern Artists Association and decided to pull down the sky just a bit more....and I also started adding in the desert. Ordinarily I would have started the mountains, but I realized that of the 8 bags of painted paper that I'd brought with me to the studio that day, muted blues and purples wasn't one of them!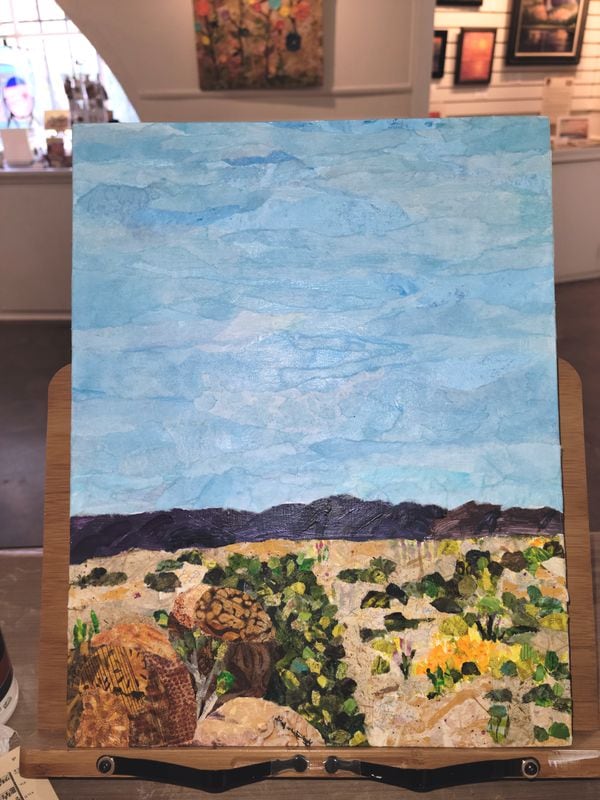 Once back home, it was a process of adding and subtracting and trying to find the right balance of color and texture, of sand and plant...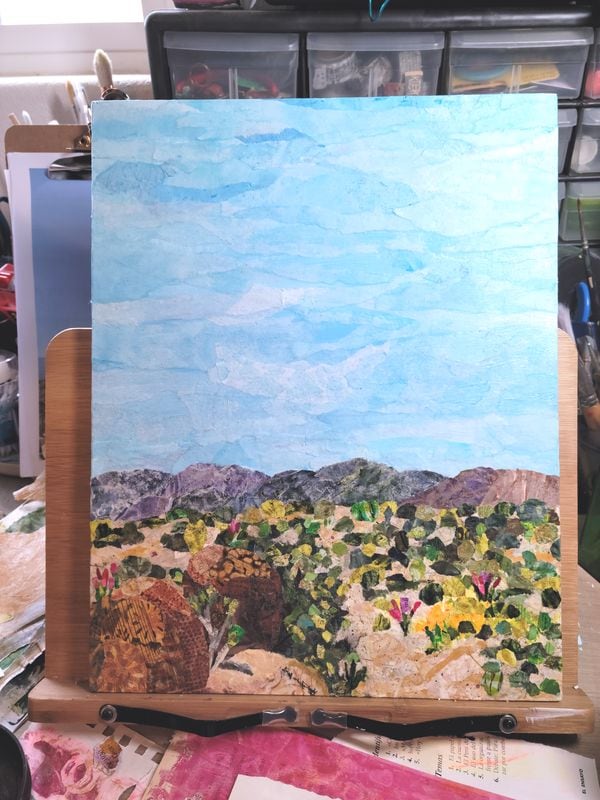 Finally, I left the painting alone and when I returned, I didn't see anything that needed adding or changing, so I signed it, varnished it and called it done!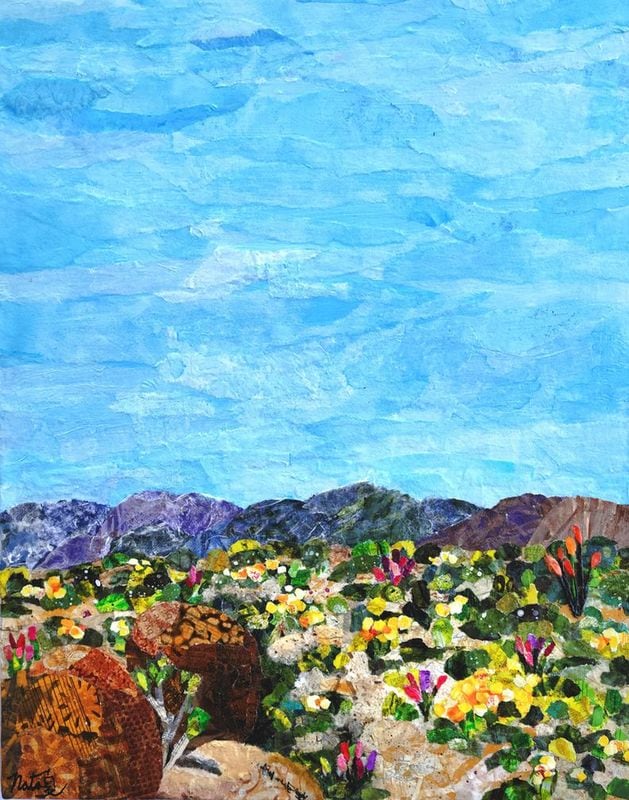 My hope is that it conveys the sense of awe I feel whenever I'm in the desert and the sheer joy of spring.
If you would like to see this print in your home to inspire you every day, please click the link