How does she do that? A look at my process
Jun 16, 2021
For this post, I am going to show you a piece from concept to completion.
It begins with an idea. Often, I get ideas from old vacation photos, things I see in the backyard or during daily walks, or on visits to local scenic spots.
For this project, I got the idea while talking with an old friend who lives in Central Texas. She mentioned that she had painted buntings that nested in her yard every year and how beautiful they were...and she thought they would be a great subject for me to paint.
Painted Buntings! I'd love to see Painted Buntings in person! But doing a painting of a bird I've never seen is a challenge…. So I checked out several bird sites online to get information and ideas. . (And by several, I mean I spent an afternoon going down a rabbit whole of birding sites and YouTube channels...) And my friend sent me photos as well……
I found this on the Cornell Bird Lab site:
Basic Description

With their vivid fusion of blue, green, yellow, and red, male Painted Buntings seem to have flown straight out of a child's coloring book. Females and immatures are a distinctive bright green with a pale eyering. These fairly common songbirds breed in the coastal Southeast and in the south-central U.S., where they often come to feeders. They are often caught and sold illegally as cage birds, particularly in Mexico and the Caribbean, a practice that puts pressure on their breeding populations.
Looking for models
A "vivid fusion of blue, green, yellow and red"?!! Bring it on!
I found some photos on Unsplash, a royalty free photo site, as well as on Shutterstock. When I work from photos, I typically like to have several poses of each subject so I can get a feel for how they move and their personalities.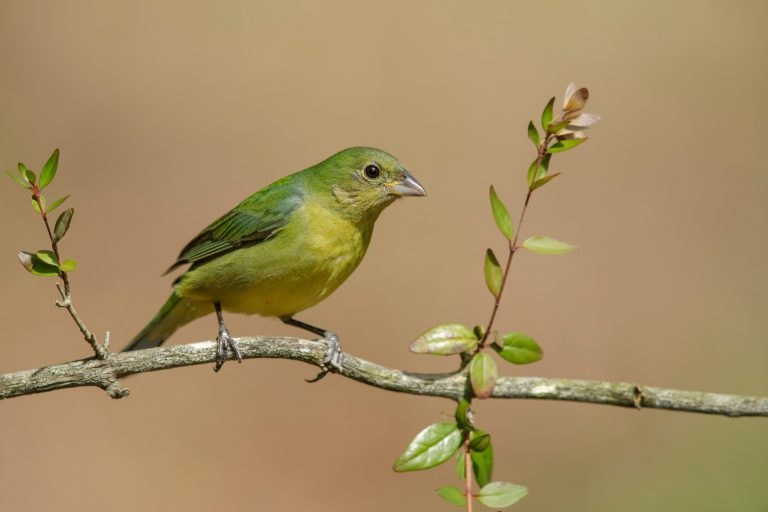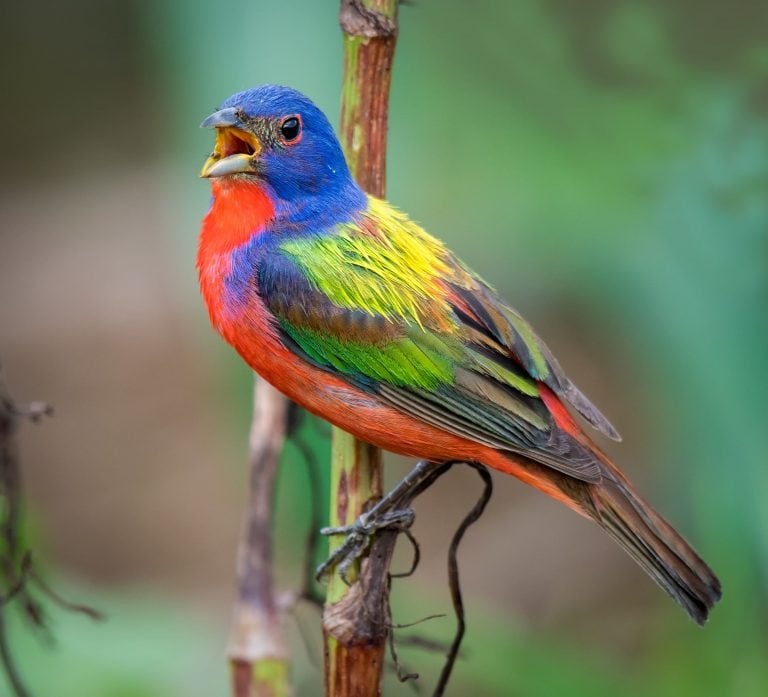 My friend sent me photos of her bush and after checking it out with iNaturalist, I discovered that the plant she called "Soapwort" is actually St. John's Wort… a shrubby bush with glorious yellow flowers…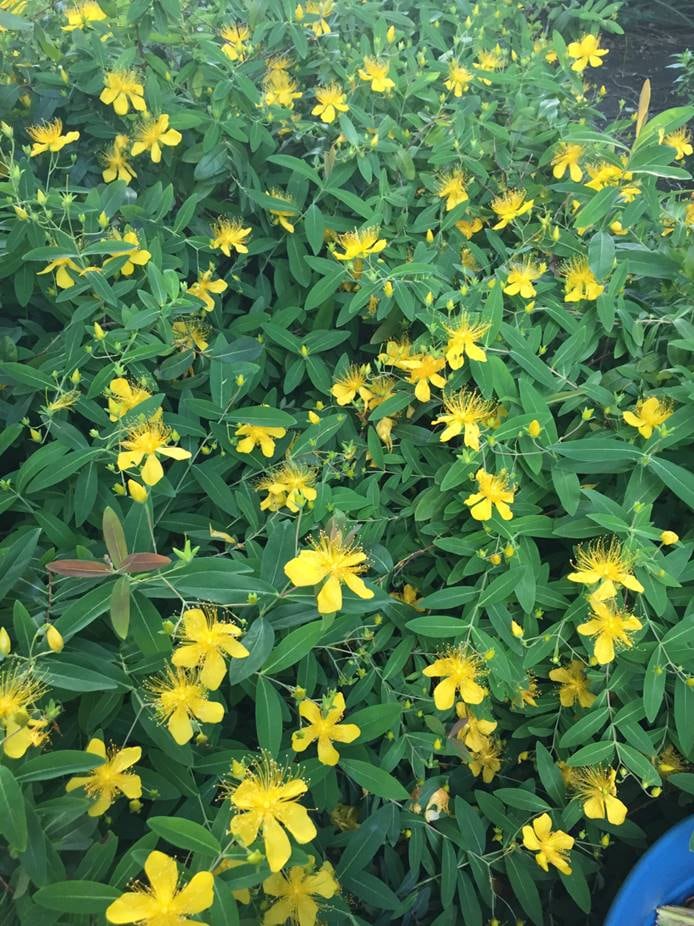 I did a sketch and color study to see what kind of composition would work and to play around with color families.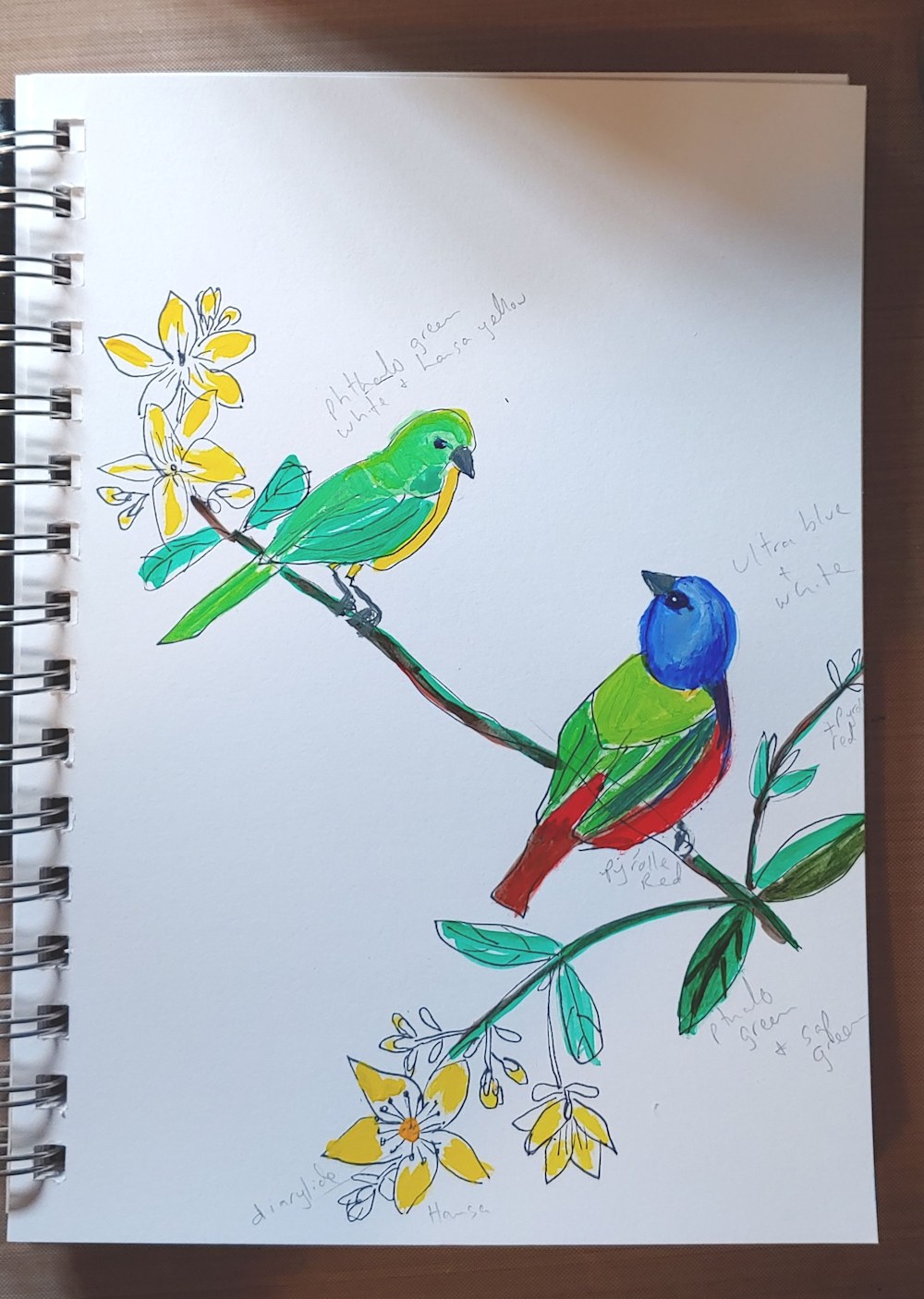 Enough Sketching! Time to start the collage...
I love working on cradled wood panels. They are hard enough to take the pushing of collage with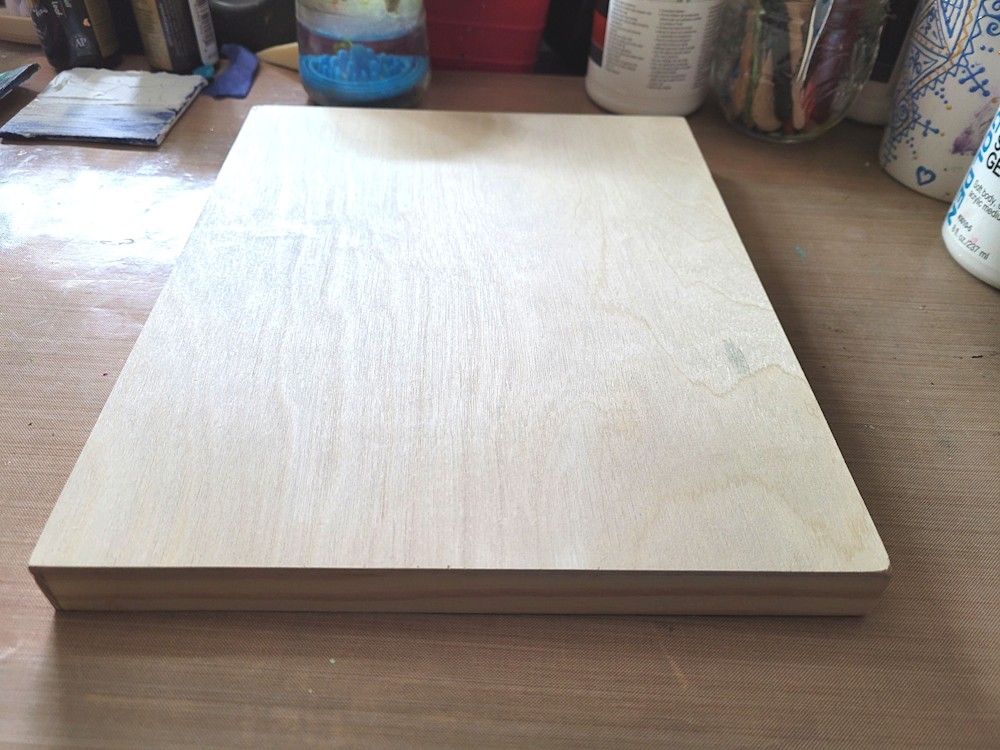 out bending/warping, and once done, you can just put a wire on the back for hanging. No need for a frame: I love that! They do need a bit of preparation before getting to work: 2 coats of sealant to prevent oils from the wood leaching into the artwork over time. Once that was done, it was ready to start the project.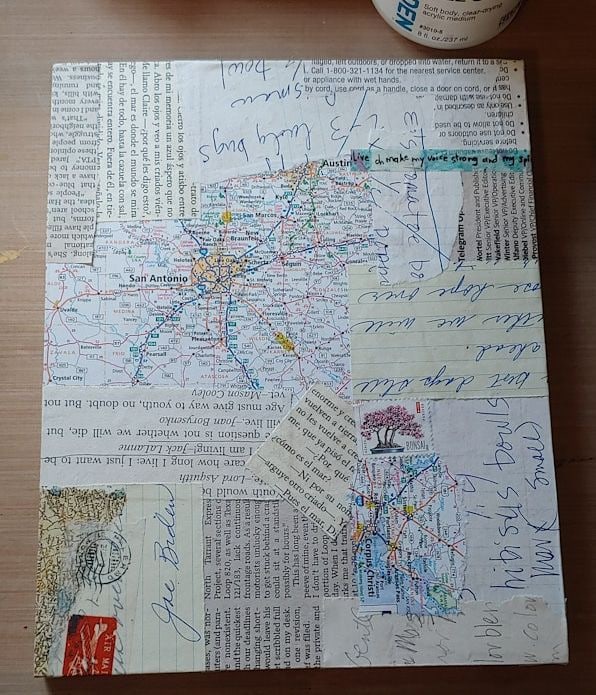 Then I created a collage ground with found paper. I included a map of San Antonio, TX, near my friend's home, and various odd items: bits from a textbook on Jungian Dream analysis, a Spanish language textbook, a recipe sent by a friend, a scrap of campaign literature, a stamp and notes I took in grad school…and yes, a signature from a piece of campaign literature from Joe Biden...basically a hodge podge of stuff that will be the underpinning of the collaged images on top.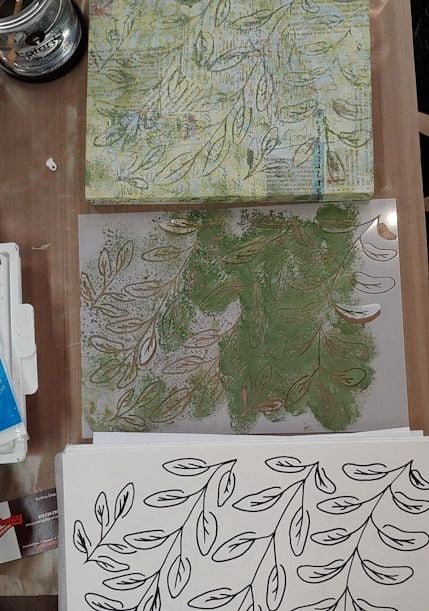 After I sponged some paint on the background, I thought a layer of a stencil of St. John's Wort leaves might look interesting.
I thought another layer of design under the birds would give the impression of being in a bush, not just hanging out on a branch. I sketched out a design, inked it in, scanned it, and had my Cricut machine cut it out as a stencil. I sponged paint over the stencil and liked the effect.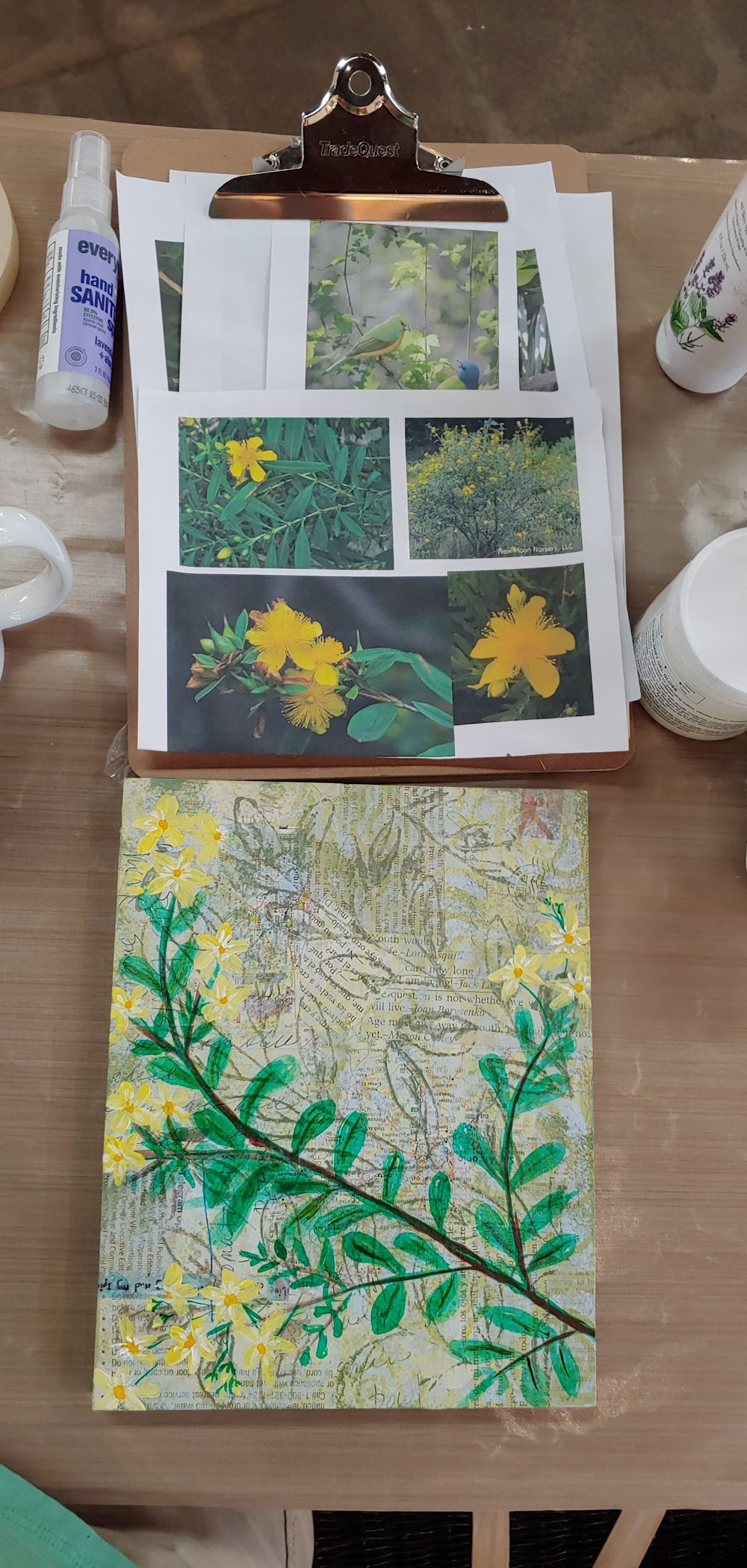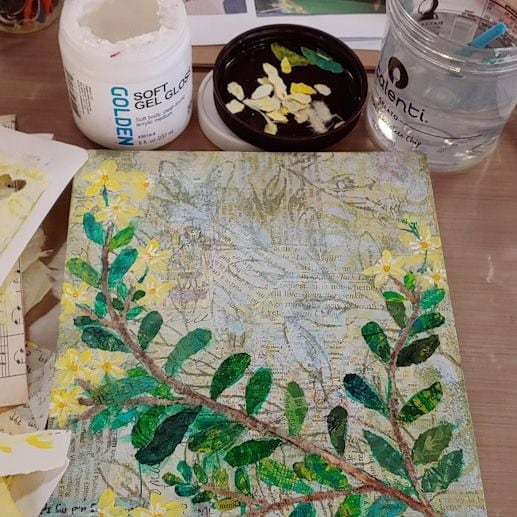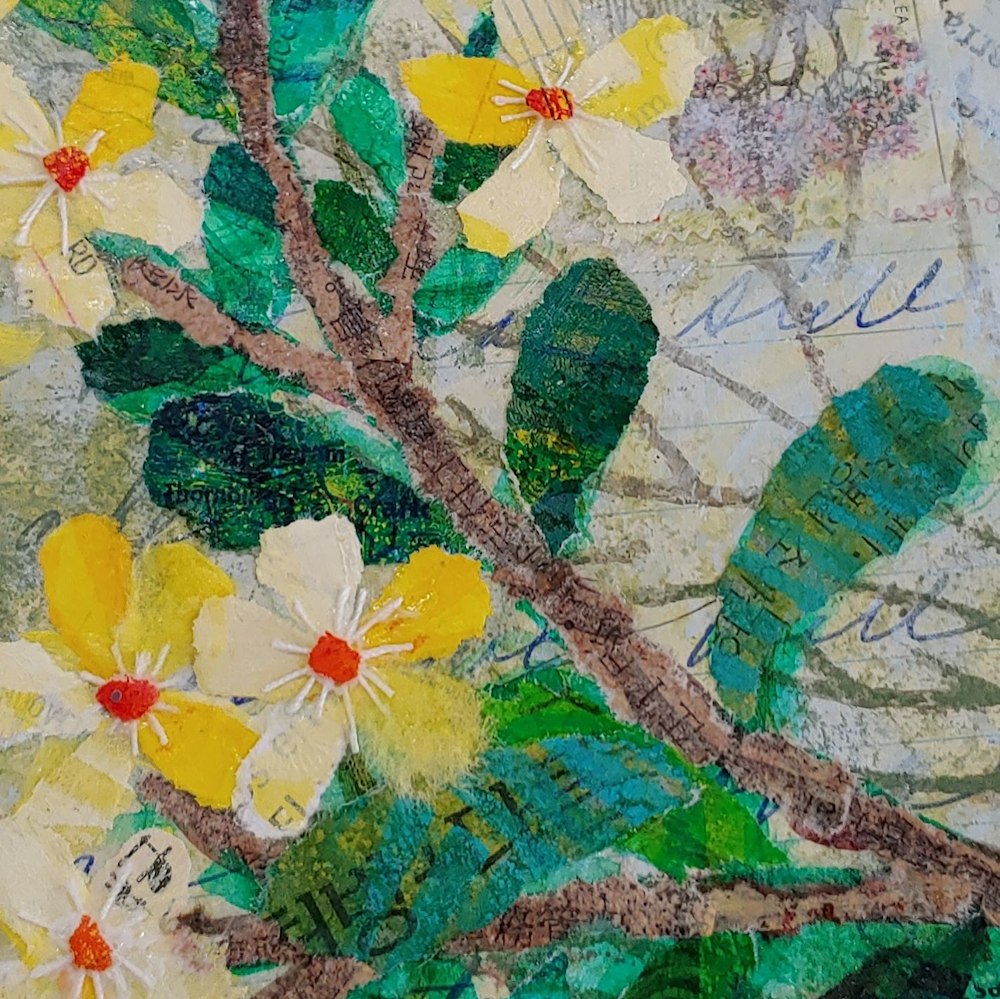 I decided to do an underpainting of the branch and flowers by themselves and then add the birds afterwards. I usually paint the whole thing in one go, but this time I decided to do them separately.
I covered the underpainting with ripped up pieces of paper. I already had an abundance of browns and yellows so there was no need to paint/print any at this point. As you can see in the close-up of the flowers. I used thread for the stamens and tried to make sure each petal was a slightly different color from its neighbor.
The Birds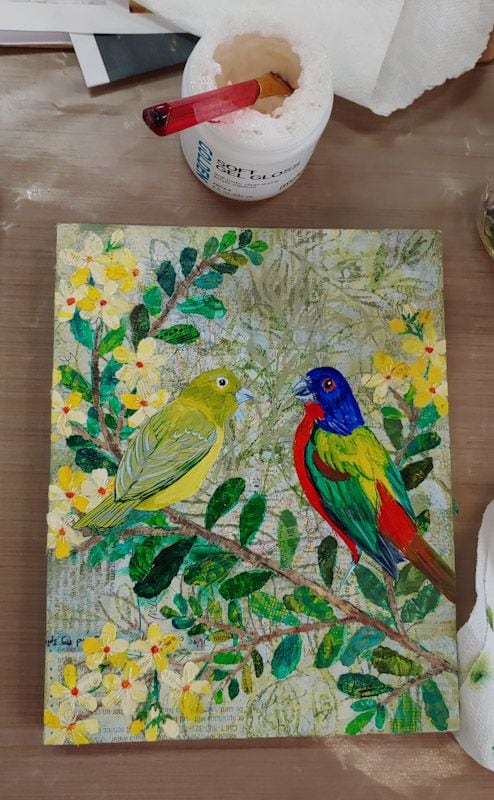 I made underpaintings of the birds and cut them out to play with the placement. It took awhile to get them to look like I wanted and I had to repaint Mrs. Bunting because my original one had been proportionally a bit too big.
Then I glued them onto the board and decided to create more range of painted papers to work with.
Painting paper
This is a fun process involving monoprinting with a gel plate. I like to use at least 3 layers of color and pattern on found paper. Sometimes I will use rice paper or mulberry paper if I think I'll need that texture. My aim is to create colors that work with the ones in the underpainting but also have a lot of interesting things going on. Most of the time I use stencils that I've made, but sometimes I will use leaves or stamp patterns or even mesh fabric... anything for a variety of texture and color.
Collage is a messy process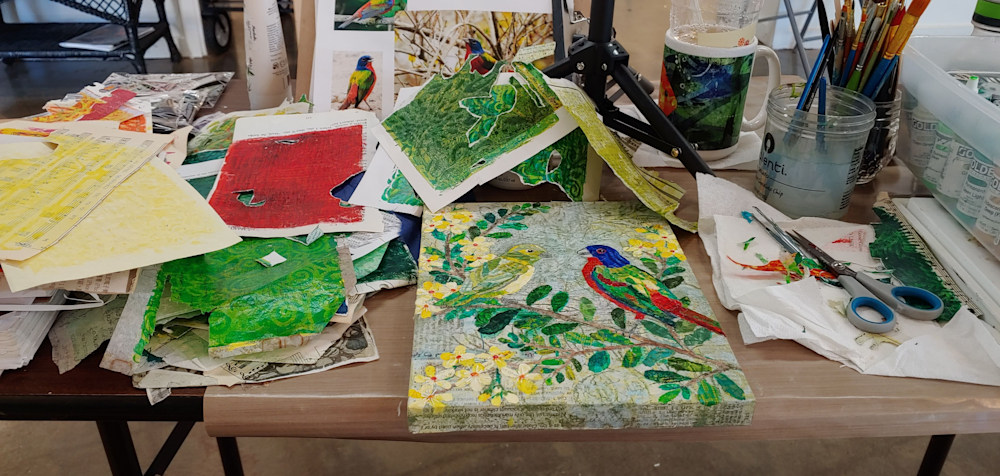 Finally finished!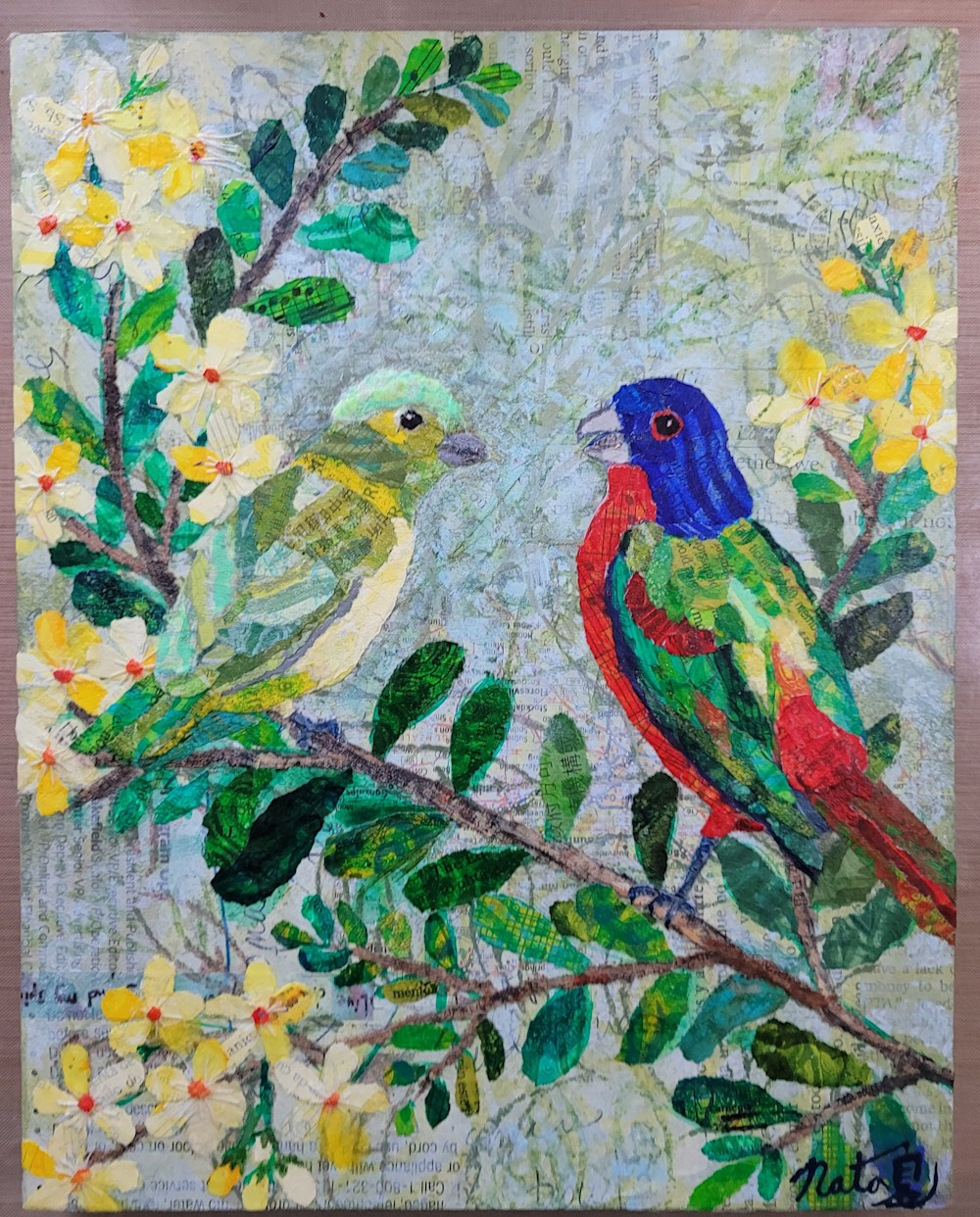 I decided to call it: When Birds Talk About Bees...
What do you think they say? Please comment below and let me know! I'd love to hear from you!
Can you imagine this in your home? Click the picture to find out more.