Color Story: Can You Change Your Mood with Color?
Sep 08, 2020
Can you change your mood with color?
Is it possible to shift from meh to marvelous just by looking at certain colors?
I find myself thinking about these sorts of things as the stay-at-home orders continue and weeks are turning into months... So I turned to the internet to look up color psychology and learned some interesting things...
Some researchers assert that certain colors can create emotional and hormonal reactions, and that it is possible to influence mood and behavior, for instance, with the color pink… Miriam Schulman advises artists to "wear pink for self-confidence."
And many psychology studies point to a specific pink as THE color to instill calm feelings. Not just any pink, they recommend Baker-Miller Pink.

Prisons, mental hospitals and even the opposing team's locker-room at the University of Iowa have been painted this color in order to promote calmness and reduce aggression.

The results have been mixed. Apparently, the pink walls in a Naval correctional facility in Washington State seemed effective, but the same pink seemed to irritate and increase violence in a Santa Clara, CA jail.
A room painted Baker-Miller pink would drive me crazy! I do not find it to be a calming or even a happy color. It reminds me of Pepto-Bismol.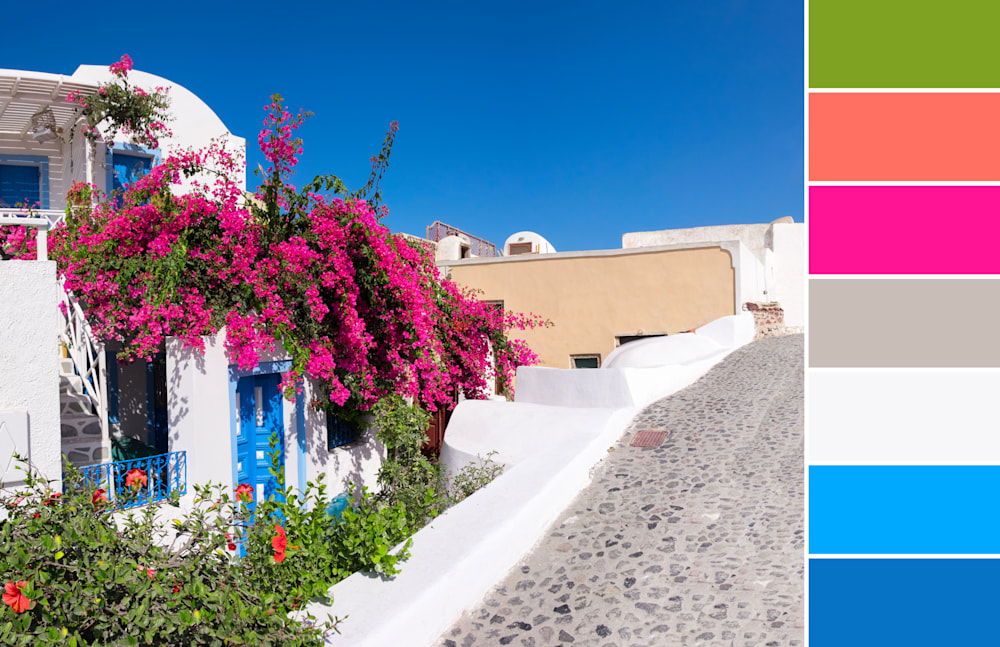 Happy colors for me are clear, bright colors, such a this fantastic Mediterranean palette. I've been drawn to painting mostly flowers lately, playing with vivid color combinations and layered textures. And despite the news and continued cancellations, my mood has been upbeat, and even joyous.
I am finding beauty all around me and feel privileged to have the time to translate that into collage paintings. Maybe pink does improve my mood!
I would love to hear the ways you are ways of keeping inspired and hopeful at this point in time, when life as it was, is changing and transforming.
Please leave a comment below and I'll be sure to answer it!