Art Show: Surrounded by Beauty
Apr 26, 2021
Surrounded by Beauty: Visions of the Sublime in the Ordinary
I am thrilled to announce that I will be part of the Featured Artists' Show by the Southwestern Artists' Association in Studio 23, Spanish Village Arts Center, Balboa Park, San Diego, CA from May 1 through May 15.
Domonique L. Kinney and I are very different as artists, but share a joy in the beauty that is all around us. When we coordinated our show after months of creating art, we were pleasantly surprised to discover that we had chosen the same theme for our respective portions of the show. And we decided to title it: Surrounded by Beauty: Visions of the Sublime in the Ordinary
Domonique's Inspiration
During difficult times of the COVID pandemic, Domonique was inspired by water lilies which in both Western & Eastern religion symbolize "rebirth and hope" and "enlightenment" respectively due to how they rise from a muddy muck into something so beautiful.
My wish," said Domonique "is that everyone could arise stronger from this world experience with hope, beauty and grace as what I attempted to express in water lily paintings.
Domonique's palette reflects a modern interpretation of masters such as Joaquin Sorolla y Bastida, Alfred Mitchell, and Gustave Moreau. She draws inspiration from the local environment and her works show a strong influence from the California School.
My Inspiration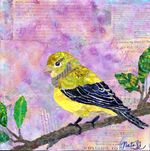 I chose paintings of subjects close to home for this show: flora and fauna from my back yard, scenes from Southern California, and friends' cats and dogs.
"The pandemic dashed all my travels plans and I had to look closely at what was always right in front of me. It was a profound experience to see and paint so much beauty that I had not noticed before. I hope to inspire people to really see what is all around them and reconnect with their authentic wonder and joy."
The show opens on May 1 and closes May 15th. Studio 23, the Southwestern Artists Association is located in Spanish Village Arts Center, 1700 Village Place, Balboa Park, San Diego, CA. It is open daily from 10am – 4pm, and has artist demonstrations most days. Masks and social distancing are required.
I will be there most of the time and would love to see you in person! For my friends who are not able to make it, there will be a virtual tour of the show and I'll post that on the blog as well as on Facebook.